Agenda Indiscriminate by Peter Harper – Book Review
Agenda Indiscriminate by Peter Harper – Book Review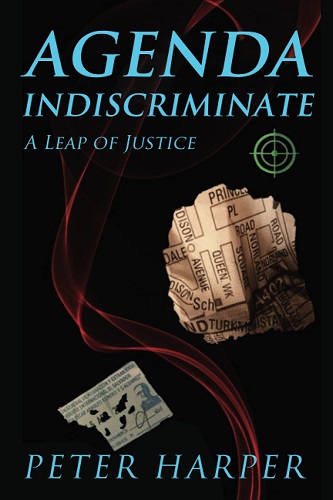 Agenda Indiscriminate
A Leap of Justice
Author – Peter Harper
Pages – 336
Release Date – 17th June 2021
ISBN 13 – 979-8522356538
Format – ebook, paperback
Rating – 4 Stars
I received a free copy of this book.
This post contains affiliate links.


Synopsis
Unable to come to terms with the shocking murder of his lover, Rafael Maqui abandons his work as a filmmaker and leaves London for his homeland, El Salvador. Despite his unstable state of mind, he accepts an initiative, via the provisional government, to negotiate with the notorious MS-13 criminal gang a de-escalation in the violence that is crippling the country. When events turn sour, Rafael chances upon Senica, a peasant whose courage over adversity inspires him to put his life in order.
With an unfinished screenplay sitting in London, and an impatient producer on his back, Rafael returns to the city that took his lover's life. Here, he redrafts the script, which in essence threatens to expose an insidious global nightmare. In the midst of the tight schedule to which he is having to work, and just as he re-establishes contact with Senica, Rafael finds himself terrorised by a crazed gunman. Betrayal and an audacious act of defiance from an unlikely source ensue, before a deadly strategy no one could have predicted surfaces, driven by unadulterated revenge.
Agenda Indiscriminate is the third book in the Daylight thrillers series but the first I have read as it works as a standalone too, even if it does follow on from events in the second book. What I noticed from the very first page is how action-heavy this story is and how it is filled to the brim with dialogue.
Our protagonist Rafael Maqui has left London and his job as a filmmaker behind and heads to El Salvador, his homeland to try and come to terms with the murder of his lover. Having no concerns for his safety, as he feels worthless, he accepts an extremely dangerous job trying to negotiate with a criminal gang, a gang that is killing innocent people and bringing the country to its knees.
As you would expect not everything goes according to plan and Rafael has to make a run for survival. It is as he is hurt and alone that he meets Senica. A headstrong, feisty woman who just might be able to mend his broken heart.
The plot is set within two countries, El Salvador and London, UK. After having fled to El Salvador to escape his mind from his lover being murder whilst on stage, Rafael returns after his nightmare in the country to rework a stage play. However, close on his heels is a gunman not willing to let him walk away.
As I mentioned above the book is action-heavy and at times I had to have a break just to calm down from the tense fast-paced plot. I enjoyed being thrown into the thick of it, although having not read the first two books I was a little confused at the very beginning as to what was happening, all I knew was that two men were running for their lives being chased by a gang of men who wanted to kill them. It took a little while to understand why and I was left pondering until that moment.
The book is a decent read with well-developed, likeable characters and a unique plot. It took a little while to get through and the chapters were a tad long for my liking, but overall I enjoyed the read and the cleverly executed storyline that will keep readers hooked with intrigue the whole way through.
Purchase Online From:
---
What did you think of 'Agenda Indiscriminate'? Share your thoughts in the comment section below!
---
The above links are affiliate links. I receive a very small percentage from each item you purchase via these links, which is at no extra cost to you. If you are thinking about purchasing the book, please think about using one of the links. All money received goes back into the blog and helps to keep it running. Thank you.
Like us on Facebook – Tweet us on Twitter – Pin us on Pinterest – Join us on Instagram