Ultramarine by Pat Jourdan – Promo Post
Ultramarine by Pat Jourdan – Promo Post
AD – Today on the blog we welcome author Pat Jourdan, with her Promotional Post for her new book 'Ultramarine', which was released on 1st October 2021. Below you can read an extract from the novel.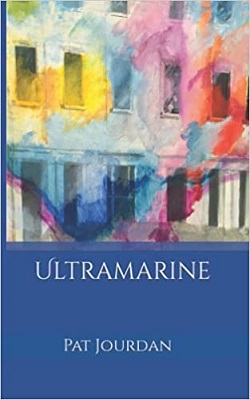 Ultramarine
Author – Pat Jourdan
Pages – 299
Release Date – 1st October 2021
ISBN 13 – 979-8481064932
Format – ebook, paperback

As Mark and Cora navigate the heady mix of swinging sixties London with a new baby, no one is being totally honest except gullible Cora. Mark's all-round deceptions, helped by several friends, unravels their marriage. All the time, a TV advert about a sea cruise sums up their dreams.
When the break happens, discarded letters and papers show how clever Mark's gaslighting has been. But even so, Cora cannot decode the secrets. Many years later, Cora goes on a cruise as the advert promised. This is threaded throughout the novel, as it parallels some of the original story.
---

---
Extract from Ultramarine
July brought mumps and strawberries. Cora lay in bed completely dizzy and feverish. Mark was kind and caring, he was immune, he boasted, he had already had mumps as a child. An accomplishment. Mumps in males over puberty was supposed to cause sterility. Cora asked him to phone the Reitzmans and tell the agency that she was really out of it. The week flew past in a daze. Mrs Reitzman kindly came round with the week's wages, a genuine bonus, and met Mark. Fred stayed out on the landing, as if the rent money was contagious too, but he left a punnet of fresh strawberries outside their door. After a few days ("I've got to do something," Mark said, phoning for help,) a young woman doctor came round to her isolation. No one else would enter the room. She stood at the end of the bed.
"Any other pains, anything else you would like to tell me?" Cora thought this was a strange question and searched for something to say.
"Well, with all this upset, I've had no periods this week either, perhaps my insides have been affected?" The doctor gave her an internal examination, flexing skilled fingers up the private tunnels.
"All O.K. There's nothing serious to worry about now. And I am happy to inform you that you are also pregnant." The doctor looked round the large room, absolutely pleased. "It would be possible to have a baby here, it's a nice situation." The baby could sleep inside the fitted wardrobe, it seemed. There would be no other place to put it. Something inside Cora chilled, a leap into an uncertain future.
Mark, however, was delighted.
"My parents, well, they'll have to let us get married now. They can't stop us." The law was that anyone under twenty-one had to get permission from their parents, it was essential. Matters were moving along at a rapid rate, like a ball of wool unravelling. No, it was more like a runaway train, reckless and exciting, and no way could either of them stall it now.
---
Purchase Online From:
---
Share your thoughts on 'Ultramarine' in the comment section below!
---
This is a sponsored post.
Like us on Facebook – Tweet us on Twitter – Pin us on Pinterest