How to Find Your (First) Husband by Rosie Blake – Book Review
How to Find Your (First) Husband by Rosie Blake – Book Review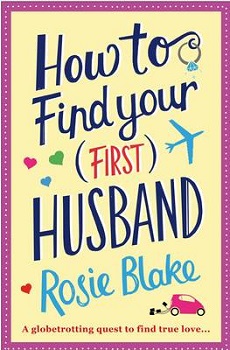 How to Find Your (First) Husband
Author – Rosie Blake
Publisher – Corvus
Pages – 400
Release Date – 2nd June 2016
Format – ebook, paperback, audio
Reviewer – Stacey
I received a free copy of this book
Post Contains Affiliate Links

Isobel quits her dead-end job and travels the world seeking the man she believes she is meant to be with. A hilarious and irresistible romantic comedy about a globetrotting quest to find love. Perfect for fans of Sophie Kinsella, Lindsay Kelk and Mhairi McFarlane.
Isobel Graves moved to LA determined to be the Next Big Thing. Instead, she is dressed as a giant prawn handing out fliers promoting a fish market. Rather than attending glamorous parties and dating exciting men, her evenings consist of watching box sets with her sort-of boyfriend, whose idea of romance is a late-night drunken text.
Where did it all go wrong?
When Isobel catches sight of Andrew Parker, her childhood sweetheart, in the background of a TV news story she feels it's a sign. If she'd stuck with Andrew everything would have turned out better. Now she just needs to find him…
Join Isobel as she travels from LA to Devon and to a remote Malaysian island in search of true love.

At eight years old, Isobel Graves married her first husband, Andrew Parker. Of course this wasn't an official wedding, this was playground messing about, but that day has stayed with Isobel ever since.
Isobel's dream is to be a presenter, but after arriving in L.A from the UK, in pursuit of her dream, things haven't quite gone her way. Instead of being on TV, she is to be found daily in the city, dressed as some kind of food, handing out flyers.
Her love life is going as well as her job – it sucks! She dreams of the fairy-tale romance that she has always wanted, and this brings her back to Andrew. Then a chance-sighting of him sends her into overdrive. He is stood in the background of a programme her father is being interviewed on. Well she thinks it's him, but what more reason does she need to suddenly pack her bags and head home to the UK?
Life it would seem likes to get in the way though. It also has a few dirty tricks up its sleeve! After travelling miles to the UK, Andrew has since upped and left to a small island in Malaysia. Well she's come this far to find him, another few thousand miles won't hurt, but will it be the big reunion that she has been dreaming of?
This is one of the funniest books that I have had the pleasure of reading. Rosie Blake certainly knows how to write a humour, chick-lit style.
Isobel is a wonderful, strange, and a bit wacky character. She certainly sees life through rose-tinted glasses and knows no boundaries. Would any sane woman go chasing some man that she hasn't seen in many, many years, in search of the perfect romance? I doubt it, but that's what makes this book fun and engaging. This isn't your normal, boring, romance chick-lit book. This is a wildly entertaining chick-lit book.
Isobel sees Andrew as the key to unlocking her unhappiness in love, and would travel the whole globe to find him. On her journey into the back of beyond, Isobel meets photographer Zeb. I loved Zeb. He was witty without trying, and he made me laugh as he just happened to be wherever Isobel was. At first this was annoying to her, but as the story progressed you realise that Isobel is happy to have him around. The two really bounce off one another.
The whole story, from beginning to end, is bonkers, but in a good way! I raced through it at full speed, and loved every page. I was sad to see How to Find Your (First) Husband end.
Book reviewed by Stacey
Purchase Links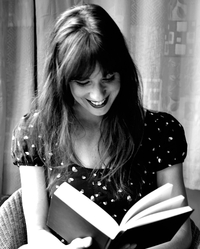 Rosie spent her university years writing pantomimes based on old classics. The 2003 production of 'The Wizard of Odd: Search for the Ruby Strippers' enjoyed critical acclaim. This was followed a year later with a successful showing of 'Harry Potter: The Musical' (complete with moving opening number, 'In my Cupboard I will Stay').
Rosie went on to write a winning short story in the La Senza/Little Black Dress Short Story Competition and was shortlisted in a few others including the 'Women and Home' annual competition and the Daily Mail 'Opening Paragraph' Competition. She started writing novels and after some false starts, and horrendous jobs that she wishes to keep a closely guarded secret (or write about in the future).
Rosie likes baked items, taking long walks by the river and speaking about herself in the third person.
Author Links