Americosis Vol. 1 by Haydn Wilks – Book Review
Americosis Vol. 1 by Haydn Wilks – Book Review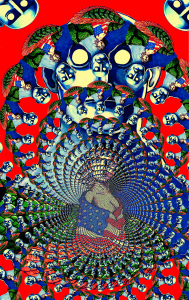 Americosis Vol. 1
Author – Haydn Wilks
Publisher – Dead Bird Press
Pages – 59
Release Date – 9th July 2015
Reviewer – Stacey
Rating 3.5 Stars
I received a free copy of this book

A naked man arrives in New Mexico claiming to have travelled through time.
He says that he's America's saviour.
A bizarre sexually-transmitted infection in New York takes control of people's bodies and burns them out in an incessant drive to infect others.
And a Presidential candidate is conversing with angels.
His aides think he's crazy.
The electorate might not agree with them.
It could all be madness. It might be the apocalypse.

'Americosis Vol. 1' is a novella of only 59 pages. This is the first in a series of books written by Haydn Wilks.
When I first started reading the book I really did wonder what I had let myself in for. I couldn't get my head around the opening and found just a few pages in, that I was giving up on the whole story.
Then a few hours later, I thought I just can't give up that easily and tried again. My second attempt went much better and I finished the rest of the book in one sitting.
The story is strange to say the least. It has children being attacked by dinosaur-like creatures, a strange, naked man being hit by a car, and a very weird sex scene in a restaurant toilet.
All the above and much more combined sound very weird, and you would be right, the book is very weird! It is also very funny, at least I hope that's what Haydn was hoping for?
The book ends quite abruptly and leaves you with plenty of unanswered questions, but that is the whole idea, to make you buy volume 2, which I presume will start off exactly where this book ends.
The diversity of the plot and the whole concept of strange goings on puts this book down as a paranormal thriller, with a slice of comedy and a hint of mystery.
I'm glad that I gave the book a second chance as it was definitely worth reading. I found myself laughing most of the way through and was quite fixated by the unusual story. I can honestly say that I actually enjoyed the rest of the book.
Book reviewed by Stacey

Haydn Wilks was born in Caerphilly in 1987. After graduating from King's College London, he worked a succession of call centre and sales jobs before moving to Seoul, South Korea.
His writing mixes the local and the global, throwing together a wide range of characters from across the inter-connected modern world. It features moments of comedy, often dark, alongside sudden violent outbursts.
Influences include Tarantino movies, Twin Town, Chuck Palahiniuk, Bret Easton Ellis, Murakami, Kerouac, Dostoevsky & Joyce.
Music features heavily in his work, from Manic Street Preachers, Exit International & the explosive Welsh underground scene, to northern indie like The Smiths, Joy Division & Arctic Monkeys, along with hip-hop, house, dubstep, '80s pop, K-pop, etc., etc.
Author Links