A Christmas Date by Camilla Isley – Book Review
A Christmas Date by Camilla Isley – Book Review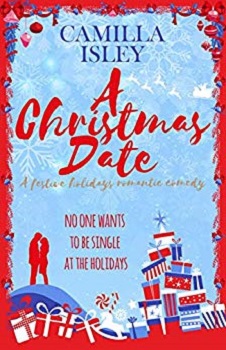 A Christmas Date
First Comes Love Book Three
Author – Camilla Isley
Publisher – Pink Bloom Press
Pages – 230
Released – 25th October 2018
ISBN-13 – 978-8887269291
Format – ebook, paperback
Reviewer – Stacey
Rating – 4.5 Stars
I received a free copy of this book
Post contains affiliate links
No one wants to be single at the holidays.
Even Little Miss Grinch, Nikki, a successful and independent woman, must face her bachelorette status at the most horrible time of the year.
December is her personal version of holly-jolly hell: a merry torture made of couples kissing at every corner, forced vacation days, and an inescapable family reunion.
And when her baby sister announces she's engaged—to Paul, the man Nikki is secretly in love with—and that he's spending the holidays with them, Christmas starts looking bluer than ever.
Nikki can't possibly survive an entire week trapped home as the family's spinster. But she has no time to meet men or to try the newest dating app, she's too busy working as a video producer for an advertising agency.
So what's a girl to do?
Nikki has the perfect solution: to hire a fake boyfriend.
Luckily, her job gives her access to an endless catalog of gorgeous actors to choose from.
But Nikki will soon discover that keeping business and pleasure from mixing isn't so easy, and that she might not be immune to a little mistletoe magic. Especially not when she picked out the perfect man as her Christmas date…
First Comes Love is a series of interconnected romantic novels. However, each book in the series can be read as a standalone.

Nikki has been in love with Paul for many years since they were teenagers but when Paul started dating her younger sister Julia a couple of years ago she knew he was out of bounds forever and it broke her heart.
When her sister announces, just before Christmas, that the two are engaged Nikki puts on a brave face but is absolutely devastated. Then she learns that when she goes home to her parents for Christmas the loved-up Julia and Paul will be staying too, upset about being around the pair for a week she takes drastic action.
Nikki hires male model Diego, to be her 'boyfriend' for the holidays and with Diego being Julia's ideal man, Nikki is even more impressed with her choice as she can't wait for her sister to be so jealous of her. But will her plan work?
I love Camilla Isley's books as they bring together lots of humour, great characters and romantic moments that are always bursting at the seams. A Christmas Date is no exception.
From opening the first page to the very last, I was addicted. The bickering sisters, parents who are at the ends of their wits with their daughters, a handsome fake date and the best, best friend a girl could ask for, plus a dog that thinks he's a cat!! What's not to like?
This book is pure enjoyment the whole way through. The plot was a little predictable at times, but this didn't lessen my enjoyment as Camilla's writing style is so engaging and exciting.
This is the third book in a series, though it can be read as a stand-alone too. It wasn't until I was partway through that I realised that I had read book two in the series as well – Doh.
If you love rom-coms this is the book to read, especially at this time of year with it being set over Christmas. It is just delightful. It is also heart-warming too and will put a smile on your face.
Reviewed by Stacey
---
Purchase online from:
---
About the Author
Camilla is an engineer turned writer after she quit her job to follow her husband on an adventure abroad.
She's a cat lover, coffee addict, and shoe hoarder. Besides writing, she loves reading—duh!—cooking, watching bad TV, and going to the movies—popcorn, please. She's a bit of a foodie, nothing too serious.
A keen traveler, Camilla knows mosquitoes play a role in the ecosystem, and she doesn't want to starve all those frog princes out there, but she could really live without them.




---