My Animals and Other Family by Jenny O'Brien – Guest Post
My Animals and Other Family by Jenny O'Brien – Guest Post

Today on the blog we welcome author Jenny O'Brien, with her guest post 'My Animals and Other Family', as part of the blog tour for her new book, 'The Stepsister', which was released on 29th October 2018. Post contains affiliate links.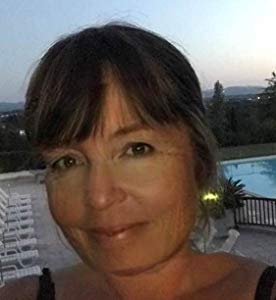 Jenny O'Brien was born in Ireland and, after a brief sojourn in Wales, now resides in Guernsey.
She's an avid reader and book reviewer for NetGalley in addition to being a RoNA judge.
She writes for both children and adults with a new book coming out every six months or so. She's also an avid collector of cats, broken laptops, dust and happy endings – two of which you'll always find in her books.
In her spare time she can be found frowning at her wonky cakes and even wonkier breads. You'll be pleased to note she won't be entering Bake-Off.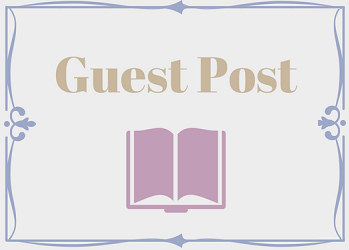 My Animals and Other Family
First, thank you for inviting me to participate on your blog, I'm delighted to be here.
Animals have always played a large part in my life. Cats, dogs, the odd adopted horse and even chickens. And, as such they usually make an appearance in my books–more about Nigel later…
By necessity we are now a family of cat keepers although, as I'm reminded, I only have a subservient role in this relationship. I get to provide them succour and warmth and when they're in the mood or in need of more dinner, they may deign to jump up on my lap.
All our cats over the years, and there have been many, have either been adopted as kittens or chosen from the many at the local branch of the RSPCA. Besides favouring moggies over pedigrees, I favour scruffy over smart. I'm a sucker for an animal sob-story and my husband has his work cut out in trying to prevent the house becoming overrun with pets.
We have two cats, Perry and Midnight who, for some reason unbeknownst to any of us, is now called Mrs Nit Nits! The cat in the photo is Perry.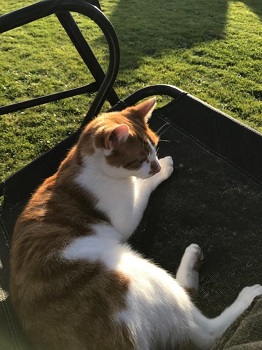 Nigel – There's an animal in my latest book The Stepsister— this time a dog. When I was searching round for an appropriate doggy breed for Nigel my thoughts, as they so often do, scrolled back in time. We had four dogs while we were growing up. The first was a terrier called Holly who was swiftly joined by Rusty. Rusty, abandoned at the roadside and as vicious as you like. He only mellowed when old-age finally caught up with him. Then there was Snoopy. Snoopy was a large lumbering Dalmatian. He wasn't even our dog to begin with. One day he decided, much to his owner's annoyance, to adopt us. As a tip – if you're going to buy your favoured pet a brand spanking new kennel it's always a good idea to ensure that it's fixed to the ground before the gales come!
And then came Sooty, reincarnated for all time as Nigel. Sooty was my mother's poodle when I was growing up, not that you'd know it. 'Sooty Bins' as he was called, soon adopted my animal-indifferent dad and they were rarely seen apart. But wipe any thoughts out of your head of poodle cuts and other French frippery. We're not that kind of family. Bins, nicknamed for obvious reasons, was cut in a straight back and sides approach without a ribbon or a bow to his name. He was special not least because of his loyalty to my beloved father. I don't know where I got the idea to call him Nigel. He's been Nigel from page one.
I don't have room to tell you about the odd budgie and the couple of love birds and there was a tortoise called Horace but I'm saving him for another book…
---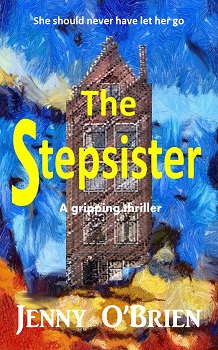 The Stepsister
Author – Jenny O'Brien
Pages – 345
Release Date – 29th October 2018
Format – ebook

She should never have let her go. That was her first mistake. She trusted him. That was her second…​
When a stranger leaves stepsisters, Victoria and Ness, a half-share in a house in Holland, they think it must be a mistake. But there's no mistake when Ness goes missing.
Desperate for the truth, Victoria travels from Guernsey to Holland to find out what's happened to her. Has she, as her texts show, embarked on a whirlwind romance? Has someone abducted her or even worse?
What she doesn't know is there's someone watching, and that person wants her dead. Can Victoria find out the truth before it's too late?
Purchase online from:
---
You can find out more about Jenny O'Brien by visiting the website/social media sites below.
www.jennyobrienwriter.wordpress.com
@ScribblerJB
Facebook
Goodreads