Titian's Boatman by Victoria Blake – Book Review
Titian's Boatman by Victoria Blake – Book Review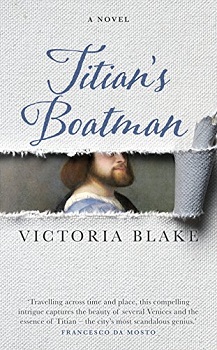 Titian's Boatman
Author – Victoria Blake
Publisher – Black and White Publishing
Pages – 384
Release Date – 26th January 2017
ISBN-13 – 978-1785300813
Format – ebook, paperback, hardcover
Reviewer – Stacey
I received a free copy of this book
Post Contains Affiliate Links

It is 1576 and Venice is in chaos, ravaged by plague and overrun by crime.
In the midst of the anarchy we find those brave souls who have chosen not to flee the city. Titian, most celebrated of Venetian painters, his health failing badly. Sebastiano, a gondolier who is the eyes and ears of the corrupted and crumbling city. And Tullia, the most notorious courtesan of the age, who must fight to retain her status as well as her worldly possessions.
In the present day, the echoes of what happened centuries earlier still ripple as the lives of ordinary people as far distant as London and New York are touched by the legacy of old Venice…

Titian's Boatman, blends the passage of time between the 16th and the 21st centuries, via two of the masterpieces of renaissance painter, Titian.
We start our journey in 1576, Venice, a period in history, when the city was in turmoil. Not bad enough that corruption and violence was rife, the plague was also reaping havoc, with the deaths of over 50,000 residents between 1576 and 1577.
Opening with one of the many characters that adorn this book, Sebastiano, 'The Boatman', has been paid a hefty sum to take a hooded man into the city that most people are fleeing. On vacating his gondolier, Sebastiano, notices that the hooded man is Pomponio, the son of the newly deceased Titian. A man Sebastiano despises.
Pomponio is there for one reason only, to claim his stake on his fathers' paintings. But when he arrives, he's too late. Thieve's have already beaten him to them.
New York, 2011, housemaid Aurora, is the cleaner for the affluent Pereira family. In the apartment hangs one of Titian's masterpieces, Saint Sebastian, a painting that's been missing since it was stolen from a gallery, many years ago.
London, 2011, Thespian Terry is in turmoil after his boyfriend Colin left him, and the heartache that he is feeling as his mother hadn't long since passed. Needing to keep himself busy, he headed to his favourite place, The National Gallery. Standing in front of the painting 'The Man in the Blue Sleeve', also by Titian, Terry hears the painting speak to him, telling him 'There are worse things than loneliness', as well as 'you are going to die soon'.
Crossing back and forth in time, we are introduced to many characters, from 16th century courtesan, Tullia Buffo, who returns to her home to find that thieves have ransacked and stolen everything, and with no money to replace them uses her body as payment. Director Ludovico, who takes Terry under his wing, and teaches him what love is. Plus detective Alberto, who needs the help of the woman he loves, Aurora, to help him put away Mr. Pereira who he believes is a drug dealer.
Titian's Boatman is a literary masterpiece as it interweaves facts with fiction. The originality of the story is what captured me from the start. The unification of past and present, brought together by one man's work, is extraordinary.
This compelling, unputdownable book will absorb you into it's plot. It will drive to the heart of you, the various emotions that run through it, from anger to grief, love to loss, the whole spectrum is beautifully presented. It is vividly descriptive, and intelligently written.
This is a book that you will not just read from cover to cover, but a book that you will take into your heart, and hold dear, long after you have read that final word. It is a book that will have you wanting to delve deeper into the life of Titian, needing to discover who exactly he was, and the paintings that he drew.
Book Reviewed by Stacey
Purchase Links


Extract – The Boatman
Venice, 1576
Who is this man who comes in the night in the rough, brown hooded cloak of a pauper? Who scuttles onto my boat with the gleam of gold in his soft pampered hand? Who looks out into the green choppy waters of the lagoon with the round, black eyes of a greedy rat? Who is this man who demands to be taken into the heart of this funeral-pyre of a city, so many of whose citizens exist now only in the ash that floats above our heads and coats our throats. Who dares to come into this city, abandoned by people, abandoned by God?
The city has been sick for over a year; a divine punishment is surely being meted out. My beloved home has been turned from a beautiful, untouched virgin into the most corrupt and diseased of whores. I, who have ferried many a person into this city of rats and swallows, have learnt how to tell one from the other, and this corpulent man who I carry in my boat knows nothing of flight. He knows nothing of the sweep of a wing against the curve of an open horizon. He is familiar with baser matter. So why does he come into a place from which so many have fled? Why would he take such a risk?
But now, as we draw up to the northernmost part of the city, as I steady my boat against the wharf and take his elbow to help him safely ashore, as he turns to pay me, the hood of his cloak falls open a little and I see his face. Now he realises that I know who he is and what brings him here. I can see by the expression on his face that he does not like it. His father and brother are in the ashes which swirl above our heads, blocking out the moon and the stars. The old man refused to leave this time. The elderly can be stubborn, but maybe, having fled the city so many times in the past, he decided that if God wanted him he should take him now. His eyesight was failing, I heard, and for a painter to lose his sight must be a terrible thing; it would be like a boatman losing an arm.
I take hold of this man's sleeve and say in my most ingratiating manner, 'I remember Aretino, God rest his soul, telling me when your father first dressed you as a priest, when you were ten years old, that he did not think you would ever make a very good one.'
I'm hoping that if he does not want his presence known in the city he will tip me well, but instead the black sheep Pomponio, oldest son of the venerated painter Titian, wrenches his arm away from me and scurries along the alleyway that leads to his father's studio. I watch the shadows eat him up and wonder why it is that so often illustrious men produce such weakling sons.
It is as if the Gods are penalising them for having so much talent, their punishment dealt out in the mediocrity and corruption of their offspring. This scurvy spawn, Pomponio, scuttles towards his father's studio to see what remains, to see what can be sold. I watch him with a slight smile on my face until he has disappeared from sight and then point my boat back towards the mainland, thinking of fathers and sons, greatness and mediocrity, until it is just me and the boat and the rhythm of my oars in the water and all my thoughts have vanished in the wide open expanse of the sea.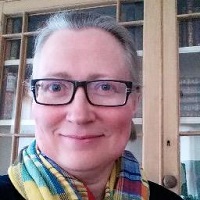 Victoria Blake is the author of three highly acclaimed crime novels featuring female private eye Sam Falconer – Bloodless Shadow, Cutting Blades and Skin and Blister, with a fourth to be published shortly.
She spent her childhood in Queen's College, Oxford, where her father was Provost, and is also a qualified solicitor who has worked in publishing and bookselling.
Author Links
www.victoriablakewriter.wordpress.com
@VM_Blake
Facebook
Goodreads