Killing It by Asia Mackay – Book Review
Killing It by Asia Mackay – Book Review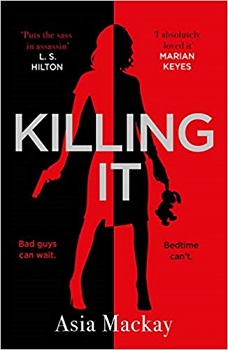 Killing It: Bad Guys Can Wait. Bedtime Can't.
Author – Asia Mackay
Publisher – Zaffre
Pages – 400
Released – 12th July 2018
ISBN-13 – 978-1785764530
Format – ebook, paperback
Reviewer – Stacey
Rating – 4 Stars
I received a free copy of this book
Post contains affiliate links.
Every working mum has had to face it. The guilt-fuelled, anxiety-filled first day back in the office after maternity leave.
But this working mum is one of a kind.
Meet Alexis Tyler.
An elite covert agent within Her Majesty's Secret Service.
Her first project back is a high-stakes hit of global significance and the old boys network of government espionage is far from ready for the return of an operational mother. But woe betide anyone who ever tells Alexis Tyler 'you can't'.
She will have it all. Or she'll die trying . . .
And yes, she damn well will be home for bath time.

Alexis Tyler is doing what millions of women do every year after having a child, she is returning to work. However, there definitely aren't millions of women whose jobs are as dangerous as Alexis is. You see Alexis is an assassin working for a secret organisation that is part of the Secret Service in the UK.
Prejudice in her job was high before, but having a child has made life even harder for her. Also, there is the little matter that it would seem someone doesn't want her around anymore and is trying to kill her off.
When I first heard about this book I wasn't sure whether it was going to be a proper thriller/crime book, or a tongue-in-cheek, humour novel. To be frank it is a bit of both.
Alexis is one kick-ass female and she is just as good as the men. She works damn hard and lo and behold anyone who tries to dismiss her for being female. Her life outside of her home might be complicated, but she tries to keep everything as normal as possible for her daughter inside her home.
The book started off in the midst of a scene and then cuts back to two months previously and her first day back at work after her maternity leave. Whilst the book was really entertaining and a lot of fun, there were times when I did find myself skimming over parts as there was a lot of descriptive writing throughout and in my personal opinion not all of it was needed.
The plot was certainly unique and perked my interest enough to hold me to the pages and have me reading it in two days. There were a lot of twists and turns and unexpected moments. If you like a book with a tough, strong woman then this is a book for you.
Reviewed by Stacey
---
Purchase online from:
---
About the Author

Asia studied Anthropology at Durham University, after which she started a career in television. She presented and produced lifestyle programmes in Shanghai before moving back to London, where she worked for Ewan McGregor and Charley Boorman as Project Manager on their round the world motorbike documentaries.
She started writing Killing It on maternity leave and undertook a Faber Academy course to help her finish it. Asia lives in London with her husband, four young children and two dogs. Killing It is her first novel and was the Runner Up in Richard and Judy's Search for a Bestseller competition 2017.



---