Fault on Both Sides by Richard Cunliffe – Book Review
Fault on Both Sides by Richard Cunliffe – Book Review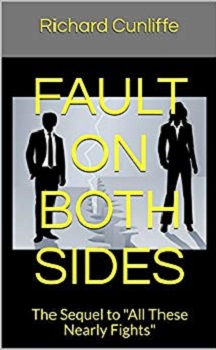 Fault on Both Sides
Author – Richard Cunliffe
Pages – 127
Released – 12th April 2018
ISBN-13 – 978-1980820772
Format – ebook, paperback
Reviewer – Selina
Rating – 4 Stars
I received a free copy of this book
Post contains affiliate links.
Jimmy Harris is back, and his life is spiralling out of control. Compelled to decide between two beautiful women, he manages to alienate them both. His career is in ruins, too, following a fracas at the car dealership where he had been in contention to become top salesman. And Jimmy's ideas about starting a dealership of his own have also hit trouble now that his best mate and business partner has got cold feet.
It's just as well, then, that our hero has won millions playing the lottery. With all that money, allied to his natural charm and guile, surely he'll soon have his life back together. Or will he? Might Jimmy actually make things worse as only he can?
Fault on Both Sides is the concluding episode in the Jimmy Harris story, and describes Jimmy's roller-coaster ride to put right the things he did wrong in his earlier.

I enjoyed the first book, All These Nearly Fights so much that I just had to read the sequel.
Fault on Both Sides quickly starts off giving us a reminder of how book one ended. Jumping straight into the story we carry on from where lottery winner Jimmy Harris has just punched his colleague Carl right on the nose in his work's car showroom, witnessed by his boss, other colleagues, present girlfriend and an old friend who he has just slept with.
Jimmy, knowing he is going to lose his job as well as just being caught out for cheating on girlfriend Charlotte with old friend Isabel, Jimmy tries to sort his life out and tries to get on the right track as his lottery win is not doing him any favours at this time.
I was so happy to be back with Jimmy and all the previous characters from the first book. I did enjoy the first one more as I felt there was more going on and I found myself laughing out loud. The second book seemed to tie up loose ends rather than give more to the story.
Richard Cunliffe gets Jimmy's life spot on and tells the story in such a way that you feel you know him and I feel like a fixture in his life just like a friend. I wish it was a bit longer as I think Jimmy has so much more to give, especially now he has a new love interest. Maybe Richard Cunliffe will consider a third book?
Reviewed by Selina
---
Purchase online from:
---
About the Author

Richard Cunliffe was born in Rochdale in January 1968. Exiled from the north west at the age of two, he grew up and went to school in Leamington Spa, and later gained a degree in business administration from the University of Coventry.
He has since lived in many locations throughout the UK and Ireland, moving home often due to work commitments. Nowadays, though, he is pretty settled just outside Derby.
An avid reader and keen writer, one of Richard's earliest (and favourite) writing memories is of winning a national competition for creating a Doctor Who adventure. He was around eight years old at the time (Richard, not the Doctor), and although it took another four decades for him to publish his debut novel, "All These Nearly Fights", he published its sequel, "Fault on Both Sides", within the following few months.
Richard's current work-in-progress is called: "They're Closing the Lamb and Musket". It concerns itself with the lives of the drinkers at a pub earmarked for closure, and with their struggle to keep the place open. He expects to publish this work during the first half of 2019.

---