All These Nearly Fights by Richard Cunliffe – Book Review
All These Nearly Fights by Richard Cunliffe – Book Review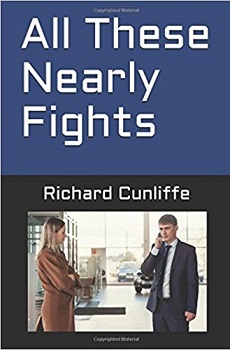 All These Nearly Fights
Author – Richard Cunliffe
Pages – 199
Released – 22nd August 2017
ISBN-13 – 978-1522096948
Format – ebook, paperback
Reviewer – Selina
Rating – 5 Stars
I received a free copy of this book
Post contains affiliate links
Crafty car salesman Jimmy Harris has both plenty of money and plenty of problems. This one-time Jack the Lad happens to have won millions playing the lottery, but is yet to work out what he wants to do with his life or who to spend it with.
His biggest dilemma is whether to stay faithful to his gorgeous girlfriend, Charlotte, or try hooking up once more with Isabel, his feisty former partner with whom he feels he has "unfinished business". Then there's the question of whether he should still open up the car dealership he'd been planning with his best mate, Ash. And if Jimmy didn't have enough on his plate, he finds himself about to hand over a load of money to someone he doesn't like on account of his slightly barmy ideas about fate, loyalty and kinship.
Christmas is coming, and Jimmy needs to arrive at some decisions. Join him for five rollercoaster days in December as he begins to make his choices.

Although the cover isn't that appealing for this story, I loved the sound of the blurb so decided to give it ago and I wasn't disappointed.
I instantly connected with Jimmy from the off and what I loved most about him that he wasn't the big, brassy, I am, know it all.
Jimmy Harris is a car salesmen who is sitting on an unexpected lottery win of 3.5 million, after deciding not to tell anyone apart from a couple of trusted people Jimmy has to decide what he really wants out of life and how to go about it.
Currently in a relationship with Charlotte, Jimmy cant stop thinking about his ex Isabel and weather he should contact her after 3 years of separation, even though she cheated on him.
Working with a group of competitive colleagues at the garage, Carl, Rudi, Kate and Emma, we are treated to an array of adventure and fun. Graham his boss also has his moments, but he is mostly interested in keeping the sales numbers up and getting Christmas bonus's in place for the top car seller in the showroom.
Also trying to set up a new business adventure with best friend Ash, things aren't going to plan, Ash is having doubts as to whether he wants to invest or not.
I like the way each character has a story to tell and I liked how we got to know Jimmy throughout the story, hes funny, smart, approachable and easy to like.
Richard Cunliffe has told and written All These Nearly Fights well and a lot of effort has been put into this story to make it work. This is one of those books where you can pop yourself into the story and feel you're an onlooker. Once you start reading you won't want to put it down.
Ending on a cliff hanger means we get more from Jimmy Harris and I cant wait to see what happens next.
Reviewed by Selina
---
Purchase online from:
---