Under a Cornish Sky by Liz Fenwick – Book Review
Under a Cornish Sky by Liz Fenwick – Book Review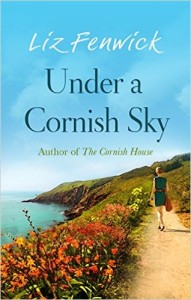 Under a Cornish Sky
Author – Liz Fenwick
Publisher – Orion
Pages – 409
Release Date – 7th May 2015
ISBN-13 – 978-1409148289
Format – ebook, paperback, hardcover, Audio
Reviewer – Stacey
Rating – 5 Stars
I received a free copy of this book
Contains Affiliate Links

Demi desperately needs her luck to change. On the sleeper train down to Cornwall, she can't help wondering why everything always goes wrong for her.
Having missed out on her dream job, and left with nowhere to stay following her boyfriend's betrayal, pitching up at her grandfather's cottage is her only option.
Victoria thinks she's finally got what she wanted: Boscawen, the gorgeous Cornish estate her family owned for generations should now rightfully be hers, following her husband's sudden death.
After years of a loveless marriage and many secret affairs of her own, Victoria thinks new widowhood will suit her very well indeed …But both women are in for a surprise.
Surrounded by orchards, gardens and the sea, Boscawen is about to play an unexpected role in both their lives. Can two such different women find a way forward when luck changes both their lives so drastically?

This is the first book by Liz Fenwick that I have read, and I can assure you it won't be the last.
The story has everything that I like in a book, love, conflict, gripping moments, unpredictability, and the occasional hot man!
The story centres around the two leading ladies, Demi and Victoria, who are thrown together by a sad event that affects them both separately, but unites them, although unity is not what they want at first.
I loved Demi's character, who I thought was written superbly. The starting of a young woman who seemed quite reserved and shy, you watch her flourish as she has to face the world following the death of her mother.
Throughout the book you witness Demi having panic attacks, with places looking familiar, yet frightening to her. I was intrigued to find out what Demi's past was hiding from her to cause these reactions, and I wasn't let down when the answer was revealed.
Victoria (Tori), is a difficult character to like at first. She has been married to Charles for many, many years, even though she admits that she should have divorced him a long time ago. She has had regular affairs, the latest with her toyboy, Adam.
She is self-obsessed and money hungry, and has a fierce nature about her, especially when she learns that she has to share her family home, Boscawen.
I started warming to her the further I read in to the story, as her defensive layers started to disappear, although even through ill health she could still have a razor sharp tongue.
The plot is wonderful. This is the kind of book that you can sit and read for hours getting lost in the beautiful Cornish scenery, which is shown in all its glory, as the book is written in seasons.
Under a Cornish Sky is one of those books that when you have finished reading you just hope that there is going to be a sequel as you want to carry on the story.
Book Reviewed by Stacey
Purchase Links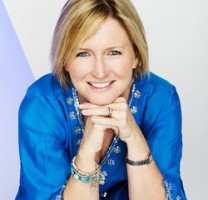 Writer, ex-pat expert, wife, mother of three, and dreamer turned doer….
Award winning author of The Cornish House, A Cornish Affair, A Cornish Stranger and Under A Cornish Sky. After nine international moves, I'm a bit of a global nomad.
It's no wonder my heart remains in Cornwall while I'm forever on a plane. I can be found tweeting from 36,000 feet or enjoying the sunshine in Dubai while wrangling my two cats.
Author Links
www.lizfenwick.com
@liz_fenwick
Facebook
Goodreads
Other books by Liz Fenwick


When artist Maddie inherits a house in Cornwall shortly after the death of her husband, she hopes it will be the fresh start she and her step-daughter desperately need.
Trevenen is beautiful but neglected, and as Maddie discovers the stories of generations of women who've lived there before, she begins to feel her life is somehow intertwined within its walls.
But Maddie's dream of a calm life in the countryside is far from the reality she faces – and as she pulls at the seams of Trevenen's past, the house reveals secrets that have lain hidden for generations.


Running out on your wedding day never goes down well. When the pressure of her forthcoming marriage becomes too much, Jude bolts from the church, leaving a good man at the altar, her mother in a fury, and the guests with enough gossip to last a year.
Guilty and ashamed, Jude flees to Pengarrock, a crumbling cliff-top mansion in Cornwall, where she takes a job cataloguing the Trevillion family's extensive library. The house is a welcome escape for Jude, full of history and secrets, but when its new owner arrives, it's clear that Pengarrock is not beloved by everyone.
As Jude falls under the spell of the house, she learns of a family riddle stemming from a terrible tragedy centuries before, hinting at a lost treasure. And when Pengarrock is put up for sale, it seems that time is running out for the house and for Jude.


There's an old Cornish saying: 'Save a stranger from the sea, he'll turn your enemy . . .'
When her reclusive grandmother becomes too frail to live alone, Gabriella Blythe moves into the remote waterside cabin on Frenchman's Creek which has been her grandmother's home for decades.
Once a celebrated artist, Jaunty's days are coming to a close but she is still haunted by events in her past, particularly the sinking of Lancasteria during the war.
Everything is fine until a handsome stranger arrives in a storm, seeking help. Fin has been left a family legacy: a delicate watercolour of a cabin above the creek which leads him to this beautiful stretch of Cornish water.
As Fin begins to pick at the clues of the painting, he is drawn into the lives of Gabe and Jaunty, unraveling a remarkable story of identity and betrayal . . .