The Impossible Truths of Love by Hannah Beckerman – Book Review
The Impossible Truths of Love by Hannah Beckerman – Book Review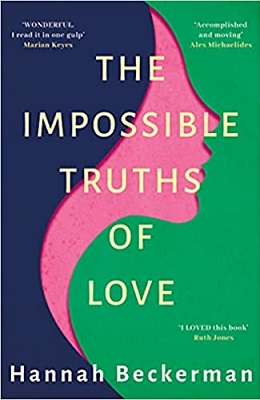 The Impossible Truths of Love
Author – Hannah Beckerman
Publisher – Lake Union Publishing
Pages – 299
Released – 5th October 2021
ISBN-13 – 978-1542029520
Format – ebook, paperback, audio
Rating – 5 Stars
I received a free copy of this book.
This post contains affiliate links.


Synopsis
From bestselling author Hannah Beckerman comes a moving story about memory, secrets, and what it really means to feel that you're one of the family.
When Nell's father makes a deathbed declaration that hints at a long-held secret, it reignites feelings of isolation that have plagued her for years. Her suspicions about the family's past only deepen when her mother, Annie, who is losing her memories to dementia, starts making cryptic comments of her own.
Thirty-five years earlier, Annie's life was upended by a series of traumas―one shock after another that she buried deep in her heart. The decisions she made at the time were motivated by love, but she knew even then that nobody could ever understand―let alone forgive―what she did.
As the two women's stories unravel, a generation apart, Nell finally discovers the devastating truth about her mother's past, and her own.
In this beautifully observed and emotionally powerful story of identity, memory and the nature of family, Hannah Beckerman asks: To what lengths would you go to protect the ones you love?
The Impossible Truths of Love is an emotional, tender, yet vitally important story about life, love, and family.
Nell, the youngest by quite some years of three siblings is at her father Bill's bedside in the hospital where he is dying. One night before he goes to sleep he leaves these parting words to her 'You need to know that I've always loved you even though you were never really mine to love.' She is flummoxed but decides she will find out what he means another day, sadly he dies before she gets the chance to ask him.
As her mother Annie's health deteriorates, she has dementia, Nell tries to make sense of her father's words, but with just a few cryptic messages from her mother she decides to go looking for answers via other means, but can she piece together what her father meant?
Told from two POVs and in two time periods, The Impossible Truths of Love will have you reaching for the tissues more than once. The book is set in the 'now' with Nell and 'then' with her mother Annie, beginning 35 years ago when she and Bill were newly married.
Annie's story will pull at your heartstrings as she goes through one trauma after another and cracks begin to show in the couple's marriage. The author takes you back to the 1980s with such clarity that you feel like you are there. You will feel every emotion and have pure empathy for the characters.
At the beginning, I felt like the book was mirroring my life. I'm one of three siblings, all girls. There is a big age gap between me and my sisters. My parents were older by the time they had me and I have been that daughter sat at my father's bedside in hospital whilst he died from cancer. So I had a connection to Nell. I could understand her need to find out the truth, no matter how hard and sad it might possibly make her.
The Impossible Truths of Love is a story you can't rush through. It is a moving tale that shows you that love comes in all manner of ways and is compassionately and beautifully written.
Purchase Online From:
---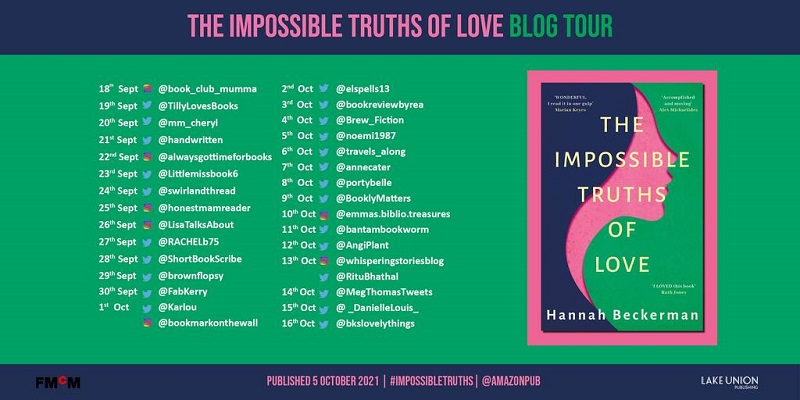 ---
What did you think of 'The Impossible Truths of Love'? Share your thoughts in the comment section below!
---
The above links are affiliate links. I receive a very small percentage from each item you purchase via these links, which is at no extra cost to you. If you are thinking about purchasing the book, please think about using one of the links. All money received goes back into the blog and helps to keep it running. Thank you.
Like us on Facebook – Tweet us on Twitter – Pin us on Pinterest – Join us on Instagram