The Check-Up by Mark Daydy – Book Review
The Check-Up by Mark Daydy – Book Review
The Check-Up


Oldbridge Tales Book One
Author – Mark Daydy
Pages – 27
Release Date – 3rd April 2017
ISBN-13 – 978-1520988986
Format – ebook, paperback
Reviewer – Stacey
I received a free copy of this book
Post Contains Affiliate Links

OLDBRIDGE TALES. Follow Jake and friends in this captivating series of e-books and paperbacks aimed at encouraging young children to enjoy reading.
Jake is feeling unwell and needs to visit the garage for a check-up. But they'll prod his tyres and put nasty liquid in his engine. How long can he pretend he's feeling just fine?
Oldbridge Tales are available in both American English and British English editions.

Jake is a busy little car, who doesn't have the time to be sick. When smoke started coming out of the back of him, he refuses to go to the garage for a check-up, even when all the other cars tell him to. He's too scared to go.
With the help of his friend Maya, Jake realises that the situation is getting too bad to be left untreated, and agrees to be seen by a mechanic. He soon realises that there was nothing to be scared of, and that going to the garage made him feel a whole lot better.
The Check-Up, is a lovely little book by father and son Mark and Mike Daydy – with Mike being the illustrator. I must commend Mike on his wonderful illustrations, they compliment the story perfectly, and reminded me of the cartoon, 'Jimbo and the Jet-set'.
The story is set in a town where the cars are just like people. They talk, think, and feel, a bit like Disney's Cars film.
All the cars in the book are all old fashioned, yet the story doesn't feel one bit dated. Whilst children will love a good story, with great characters, adults will be more likely to understand the message of needing to be seen by a specialist when they really don't feel very well, and that there is nothing to be scared, these people are there to help you.
The Check-Up is a lovely short young children's book. With it being the first in a series, with lots more to come, this will be a real treat for kids. Something that they can enjoy reading over, and over again.
I also like that Mark has written the book in both British English, and American English. What a great idea.
Book reviewed by Stacey
Purchase Links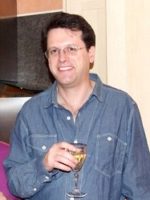 Over the past 20 years, I've written extensively for TV and radio in the UK and I'm currently developing a TV sitcom (optioned by NBC-Universal).
I love reading heart-warming, humorous novels about life's little ups and downs, so it's hardly a shock that I've started writing them myself. In my stories, I look to bring the feel-good factor (laughter and, perhaps, a few tears) to romance and relationships, changing careers, moving home, family upheaval, growing up, and a whole host of other bumps in the road.
If you're a fan of Nick Spalding, David Nicholls, Jon Rance, Mike Gayle, Matt Dunn and Nick Hornby, your horoscope says it's a very good time to buy my books.
Author Links