A Mole Like No Other by Julia B. Grantham – Book Review
A Mole Like No Other by Julia B. Grantham – Book Review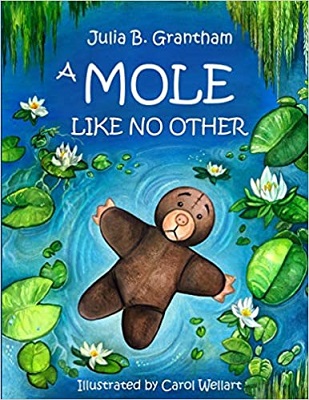 A Mole Like No Other
Author – Julia B. Grantham
Illustrator – Carol Wellart
Pages – 135
Released – 19th January 2021
ISBN-13 – 979-8694878722
Format – ebook, paperback, audio
Rating – 4 Stars
I received a free copy of this book.
This post contains affiliate links.


Synopsis
The story of Moley and his friends – toys and real animals – is set in a cosy English country house with a traditional garden. But behind all this tranquillity, challenges and even dangers, await the characters.
The story is told beautifully and with great humour. It is written as a 'read-aloud' book for parents and carers. It is a fun story with lovely (and wise) life lessons and advice interwoven throughout. Children of all ages will take something different from it, enjoying the adventures and the characters, while adults will also be delighted with its rich language, subtle literary references, and tongue-in-cheek humour.
The book is illustrated with original pencil drawings in the best British tradition of artwork for children's books.
A Mole Like No Other is a children's book featuring a toy mole who has been stuffed away in a box for years and is now free after his neglectful owner sells him at an Easter sale.
The book reminded me a lot of the movie Toy Story in which all the toys come alive and speak when their owners are not looking, though these toys can communicate with animals too.
The mole, named Moley by his new owner Ashley, is still trying to learn about the world after being shut away for so long and find out how to behave the right way, as well as learn why humans behave the way they do. He is rather sweet and gets himself into a lot of situations and makes lots of new friends too.
What I first noticed when I opened this book was how much text there is. For the size I was expecting a young children's picture book filled with full-page, bright, and colourful illustrations and just a few words on each page, this book is quite the opposite. It certainly isn't for little ones. It is more of a large-sized chapter book with a few black and white illustrations.
The story though is very sweet and Moley is a lovely character. He is genuinely a caring, helpful mole that also wants to learn and just be loved. The plot makes your heart squeeze and leaves you feeling happy. It is a delightful tale and one that would make a fantastic bedtime story, though it would need to be read over several nights.
A Mole Like No Other is richly imaginative and I can see children being so touched by the tale that they will be asking for their own teddy mole. It has an old-fashioned feel to the story which I really liked, there are a few humorous moments that will give children a good giggle too.
Purchase Online From:
---
What did you think of 'A Mole Like No Other'? Share your thoughts in the comment section below!
---
The above links are affiliate links. I receive a very small percentage from each item you purchase via these links, which is at no extra cost to you. If you are thinking about purchasing the book, please think about using one of the links. All money received goes back into the blog and helps to keep it running. Thank you.
Like us on Facebook – Tweet us on Twitter – Pin us on Pinterest – Join us on Instagram