I am a Fish by Isabel Otter – Book Review
I am a Fish by Isabel Otter – Book Review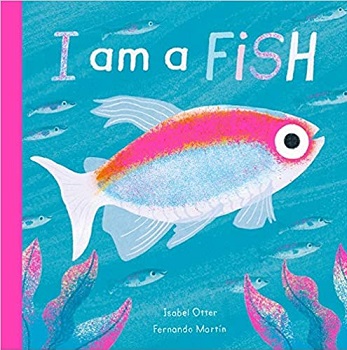 I am a Fish
Author – Isabel Otter
Illustrator – Fernando Martín
Publisher – Caterpillar Books
Pages – 32
Released – 4th March 2021
ISBN-13 – 978-1838910464
Format – hardcover
Rating – 5 Stars
I received a free copy of this book.
This post contains affiliate links.


Synopsis
Take a tour of the underwater kingdom. Say hello to the biggest and smallest fish in the world and meet some unexpected members of the fish family.
The world beneath the waves is waiting to be explored!
I am a Fish is a hardback factual book by author Isabel Otter that teaches children about the biology of a fish, different types of fish, how they swim, what they eat, etc.
The book is beautifully illustrated in bright colours that show off the factual information and help children to understand what the author is talking about.
There are numerous facts on each page and all are written in an easy-to-understand style with the wording spot-on for the level of reader the book is aimed at.
For any child that might want to learn about the sea and the fish within it, this would make a fabulous book to purchase. It would even be a valuable asset to have at primary school, especially for fish-themed projects.
I enjoyed the read and even as an adult I learned a thing or two as well, such as I'd never heard of a tiny fish called a Stout Infantfish which only lives for two months. Want to know more? Well, you will have to grab a copy.
Purchase Online From:
---
What did you think of 'I am a Fish'? Share your thoughts in the comment section below!
---
The above links are affiliate links. I receive a very small percentage from each item you purchase via these link, which is at no extra cost to you. If you are thinking about purchasing the book, please think about using one of the links. All money received goes back into the blog and helps to keep it running. Thank you.
Like us on Facebook – Tweet us on Twitter – Pin us on Pinterest