Pop-Up Shakespeare by The Reduced Shakespeare Company – Book Review
Pop-Up Shakespeare by The Reduced Shakespeare Company – Book Review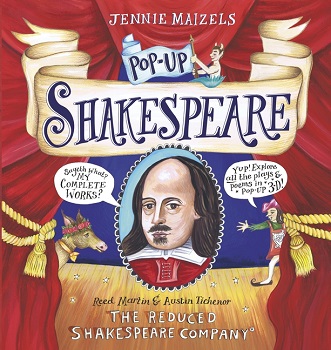 Pop-Up Shakespeare
Every play and poem in pop-up 3-D
Author – The Reduced Shakespeare Company
Illustrator – Jennie Maizels
Publisher – Walker Books
Pages – 10
Released – 7th September 2017
ISBN-13 – 978-1406371079
Format – hardcover
Reviewer – Stacey
I received a free copy of this book
Post contains affiliate links
Discover all of Shakespeare's thirty-nine magnificent plays in one spectacular pop-up book from Jennie Maizels and the world-renowned comedy theatre troupe, the Reduced Shakespeare Company®.
Interactive spreads with dramatic pop-ups and lift-the-flaps bring to life each of Shakespeare's Comedies, Histories, Romances and Tragedies. Packed with hilarious jokes and funny facts, this is the Bard's complete works as they've never been seen before.
Review
Pop-Up Shakespeare is a fantastic children's book that teaches all about Shakespeare and his thirty-nine plays in a fun and interactive manner.
Starting off with the great playwright himself, we get to delve into William Shakespeare's life, from what little we know about it, unearthing fascinating facts – Did you know that he was buried in 'Holy Trinity Church' and on his gravestone is a poem warning people about moving his bones? It didn't work though as it has been revealed that his skull is missing from his grave.
The book splits his plays into categories over a double page:-
Comedies – Twelfth Night, A Midsummers Night's Dream, As You Like It, The Merchant of Venice, Much Ado About Nothing, The Comedy of Errors, Love's Labour's Lost, The Two Gentlemen of Verona, The Taming of the Shrew and The Merry Wives of Windsor. Plus three that are seen as 'Problem Plays' – Measure for Measure, Troilus and Cressida and All's Well that Ends Well.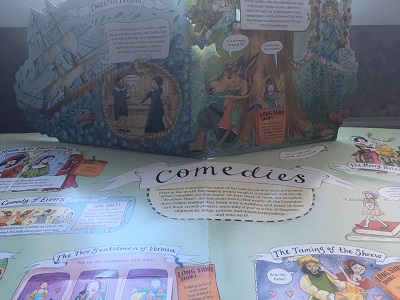 Histories – Richard II, Richard III, King John, Henry IV (Parts One and Two), Henry V, Henry VI (Parts One, Two, Three) and Henry VIII.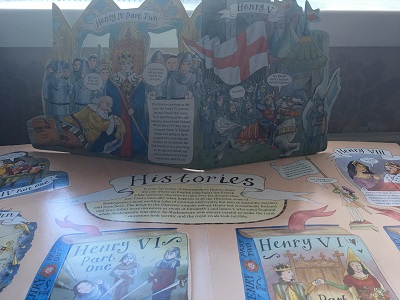 Romances – The Tempest, The Winter's Tale, Cymbeline, The Two Noble Kinsmen, Missing Gardenio, and Pericles, Prince of Tyne.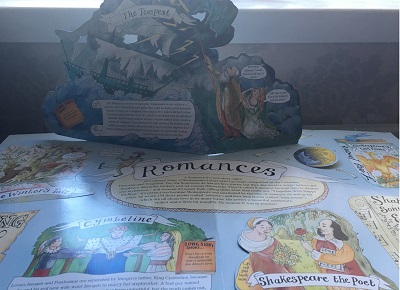 Tragedies – Macbeth, Antony and Cleopatra, Coriolanus, Romeo and Juliet, Othello, King Lear, Hamlet, Titus Andronicus, Julius Caesar, and Timon of Athens.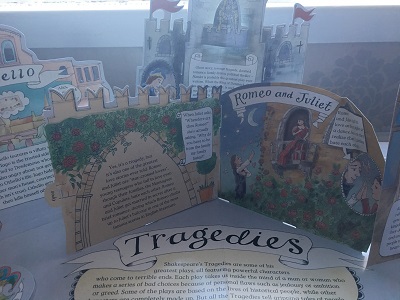 In each section there is information on each play, fun facts, and quotes, surrounded by stunning bright and colourful artwork, and of course a huge pop-up, which is double sided. There are also flaps to lift and doors to open too.
This book is truly superb. The text is kept quite short in relation to each play, with added illustrations for each. There are also lots of speech bubbles with funny remarks.
I particularly liked the 'Long Story Short' which was on each play. Basically, it tells you about the moral behind the play in just a few words.
The whole book is educational from beginning to end. It would be perfect for a school library, though I would worry about the book becoming ruined by a child being too rough with it.
I've not seen an easier, or more interesting way to learn about all of Shakespeare's plays together.
Reviewed by Stacey

---
About the Illustrator

Jennie was born in London in 1970. Her mother and father met at Chelsea School of Art and are both artists. They now run the art magazine 'Raw Vision'. Jennie went to Central St. Martins School of Art and studied Illustration, her graduation show included a life-sized replica of Alice in Wonderland's Tea Party, made entirely out of Paper Mache!
Jennie's first commission was to design and make the window displays of Harvey Nichols department store as part of London fashion week. She produced a number of nationwide window displays for The Body Shop and Dillons Bookstores. Jennie has always enjoyed working in 3-D, so pop-up books were a natural transition.






---