Nucleus by Rory Clements – Book Review
Nucleus by Rory Clements – Book Review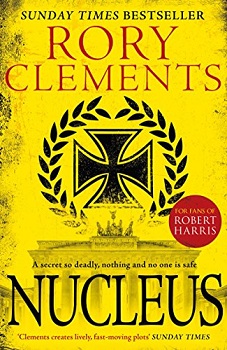 Nucleus
Author – Rory Clements
Publisher – Zaffre
Pages – 384
Released – 25th January 2018
ISBN-13 – 978-1785764523
Format – ebook, paperback, hardcover, audio
Reviewer – Clive
Rating – 4.5 Stars
I received a free copy of this book.
This post contains affiliate links.
The eve of war: a secret so deadly, nothing and no one is safe.
June 1939. England is partying like there's no tomorrow . . . but the good times won't last. The Nazis have invaded Czechoslovakia, in Germany Jewish persecution is widespread and, closer to home, the IRA has embarked on a bombing campaign.
Perhaps most worryingly of all, in Germany Otto Hahn has produced man-made fission and an atomic device is now possible. German High Command knows Cambridge's Cavendish Laboratory is also close, and when one of the Cavendish's finest brains is murdered, Professor Tom Wilde is drawn into the investigation. In a conspiracy that stretches from Cambridge to Berlin, and from the US to Ireland, can he discover the truth before it's too late?

Rory Clements certainly knows how to pack a novel with action and information. In Nucleus (I love a one word book title) he gives us a classic 'Ripping Yarn' with lots of action set among the academia of Cambridge. He also gives a detailed background into life in the UK in 1939 when war was seen as inevitable. Nucleus has many storylines which all weave together but Clements tells them in a clear and easy manner enabling the reader to be fully aware of what is happening.
Tom Wilde makes a great all-action hero. I loved the mental image of him racing his motorcycle along the country lanes; no helmet or leathers and his shirtsleeves rolled up. He is supported by some wonderful characters, ranging from the glamorous Clarissa to a tough ex-jockey. My favourite was the hard working mother and tart-with-a-heart persona of Fanny. For authenticity the author also includes some real characters including Bertha Bracey and Frank Foley.
One measure of a good historical novel is how much I learn from its story and how much it encourages me to research further. Yes, I already knew quite a lot about the Kindertransport but following Nucleus I found myself looking up the 1939 IRA S-Plan bombing campaign, the beautiful Rudge 1938 Special and biographies of Foley and Bracey.
The story and intrigue builds throughout, culminating in an all action finish with a few surprises. No reader will be able to resist cheering on Tom and his fellow good-guys as they break the spy ring and ensure that our scientific secrets are kept safe.
My paperback copy had a sticker marked "for fans of Robert Harris". I can understand why but I look forward to a time when Rory Clements can market his books "for fans of Rory Clements". I have awarded Nucleus a nearly perfect four and a half stars.
Reviewed by Clive
---
Purchase online from:
---
About the Author

Rory Clements has had a long and successful newspaper career, including being features editor and associate editor of Today, editor of the Daily Mail's Good Health Pages, and editor of the health section at the Evening Standard. He now writes full-time in an idyllic corner of Norfolk, England.


---
The above links are affiliate links. I receive a very small percentage from each item you purchase via these link, which is at no extra cost to you. If you are thinking about purchasing the book, please think about using one of the links. All money received goes back into the blog and helps to keep it running. Thank you.