The Breaking by K.S. Marsden – Cover Reveal
The Breaking by K.S. Marsden – Cover Reveal
Today we welcome author K.S. Marsden with the cover reveal for her upcoming new book 'The Breaking', which will be released on 20th March 2020. This post contains affiliate links.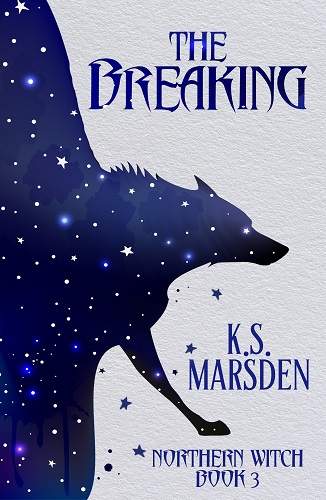 The Breaking


Northern Witch #3
Author – K.S. Marsden
Release Date – 20th March 2020
Format – ebook

Mark thought being a witch would be easy, but it has ruined everything.
Now, he has to fight for his friends and the guy that he loves.
Which would be challenging enough, without school being a living nightmare; more demons than he can handle; and witches that have strayed from the light.
---
Pre-Order online from:
---
Winter Trials (Northern Witch #1)is currently available for Free – mybook.to/WinterTrials
About the Author

Kelly S. Marsden grew up in Yorkshire, and there were two constants in her life – books and horses.
Graduating with an equine degree from Aberystwyth University, she has spent most of her life since trying to experience everything the horse world has to offer. She is currently settled into a Nutritionist role for a horse feed company in Doncaster, South Yorkshire.
She writes Fantasy stories part-time. Her first book, The Shadow Rises (Witch-Hunter #1), was published in January 2013, and she now has several successful series under her belt.






---
Share your thoughts on the cover of 'The Breaking' in the comment section below!
---
The above links are affiliate links. I receive a very small percentage from each item you purchase via these link, which is at no extra cost to you. If you are thinking about purchasing the book, please think about using one of the links. All money received goes back into the blog and helps to keep it running. Thank you.