The Ferret by Tom Minder – Book Review
The Ferret by Tom Minder – Book Review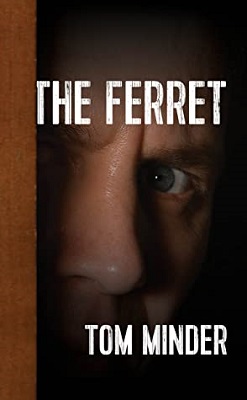 The Ferret
Author – Tom Minder
Publisher – Black Rose Writing
Pages – 153
Released – 1st April 2021
ISBN-13 – 978-1684336593
Format – ebook, paperback
Rating – 4 Stars
I received a free copy of this book.
This post contains affiliate links.


Synopsis
As an LDS elder, Louie Kimble, is assigned as construction foreman in Testimony Acres, a high-end real estate development, fifty miles north of Las Vegas. He discovers it's a money laundering scheme put together by his religious superiors. Confronted by the FBI, he agrees to provide evidence and testify in exchange for his freedom.
After surgery to fix an unfortunate resemblance to a domesticated animal, he is given a new name and history and relocated to South Jersey. He rebuilds his life, with a girlfriend, a great job, and season tickets to the local pro football team.
Then one bright Saturday morning, there is a knock on his front door. His visitor will bring back his past, and change his life forever.
Firstly I thank Tom Minder and his publishers for letting me have an advance copy of this book which will be available to purchase from 01 April 2021.
There is a suggestion that you should never shop when you are hungry because you are likely to purchase more junk food. That message also applies to reading this book as it is full of scenes where large amounts of tasty but naughty food are consumed. Be warned, it will lead you to the fridge or to your nearest takeaway.
The Ferret is a relatively light weight but lively story about a young man from Utah who tries to rebuild his life after being involved in a corrupt business scheme. I found it entertaining in a straightforward way, with a few laughs thrown in. I imagine that Tom Minder is aiming at the teenage or young adult male market where a modest 153 pages might encourage those who do not want a long read.
I found the text simple to read and the narrative was easy to follow with a few little twists to keep the reader interested. Louie is believable as are most of the support characters. The storyline includes information on witness protection, modern construction, labour organisation, American Football and in particular, the Mormon Church or more accurately the Church of Jesus Christ of Latter-day Saints (LDS).
As a practicing Christian, I am aware that no church is perfect and there will be wrong-doers everywhere. And whilst I would be uncomfortable with some of the LDS beliefs, I am also aware that the Church includes thousands of sincere, charitable and extremely hard-working members. I cannot help wondering what they will think of their church being portrayed in this book as running corrupt and violent businesses.
Putting those concerns to one side, I found The Ferret a quick easy read for which I have awarded four stars.
Purchase Online From:
---
What did you think of 'The Ferret'? Share your thoughts in the comment section below!
---
The above links are affiliate links. I receive a very small percentage from each item you purchase via these link, which is at no extra cost to you. If you are thinking about purchasing the book, please think about using one of the links. All money received goes back into the blog and helps to keep it running. Thank you.
Like us on Facebook – Tweet us on Twitter – Pin us on Pinterest