The Writing Life of: Sandra A. Sigfusson
Sandra A. Sigfusson
This week I am thrilled to be interviewing author Sandra A. Sigfusson. Sandra A. Sigfusson will be sharing with us details of her writing life, telling us all about her new book 'The Creative Director: The Heart Never Lies', which was released on 1st June 2020, and answering a few fun questions too. This post contains affiliate links.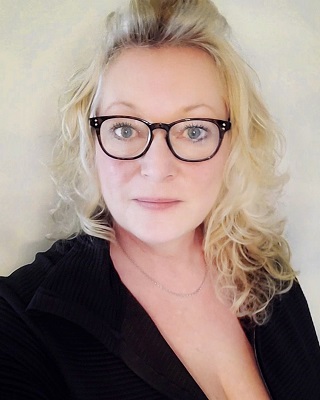 Sandra A. Sigfusson was born in Vancouver BC Canada. Her school years were split between living in the interior town of Prince George and the City of Nanaimo on Vancouver Island. She, her husband, and two sons continue to reside in the lower mainland of British Columbia in the charming seaside community of Port Moody.
Her artistic nature led to an avid interest in art, photography, and a love for travel from an early age, and these passions continue today alongside her writing career. Her foray into the realm of penning romance novels started in July 2018 as a challenge to write a romantic made-for-television movie script in her spare time, but instead, it became her first romance manuscript titled Avalon.
Since 2018 Sandra A. Sigfusson has written over a dozen manuscripts, successfully publishing seven stand-alone romances in paperback and e-book, and has produced four of those novels in audiobook format as well.
Sandra hopes to continue to create love stories that her readers enjoy for many more years to come.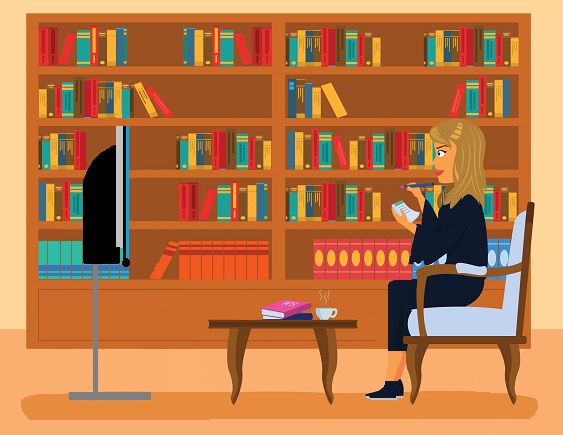 1) Did you enjoy writing when you were a child?
When I was younger I wrote poems and songs, but not stories. It never crossed my mind to write anything other than those things until later in my adult life.
2) Which author shaped your childhood?
I think Judy Blume is the author that stands out most in my memories.
3) What motivated you to begin your first novel?
I'm a fan of soapy and campy romance films and I don't mind if they are corny, as most of them are, but one day I watched a truly terrible film and I couldn't believe it had been published, let alone turned into a movie.
In my younger days, I worked for a film and video production company and so with that experience I thought I'd try my hand at writing a made-for-television script for the fun of it. I enjoyed the process of writing and instead of it being a script it was a novel.
4) Do you plot your book, or are you a pantser?
I'm 100% a pantser. I tried plotting once and it messed with the flow of creativity. I live in the moment as I write, visualizing the scene, the characters, and their actions as if it were happening as we speak. I doubt my plotted novel will ever be written which is a shame because I loved the concept of writing a murder mystery romance.
5) What is your average writing day?
Some stories fly out of me at breakneck speed, while others take time to unfold. A good day of writing is between 3,000 and 5,000 words, but sometimes there are too many interruptions to accomplish those word counts.
I typically write a 70-80,000 word manuscript in one month, however, my fourth novel titled Rain on a Tin Roof was written in twelve days.
6) What is the best thing about being an author?
I would say the best thing about being an author is the creative outlet that writing offers. I've always been artistically inclined and so being an author fits well within my nature.
I remember one event where a grocery teller had asked me what I do for a living and then laughed when I said I was an author of romance novels. She said, "Aren't all love stories written by now? How could anything in that genre be original?" My reply was, "There are as many love stories as there are people on this planet. The trick is to pretend you are someone else for a day and create a fictional world around them."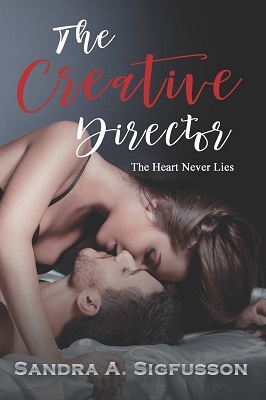 The Creative Director: The Heart Never Lies
Author – Sandra A. Sigfusson
Pages – 448
Release Date – 1st June 2020
ISBN 13 – 979-8650204916
Format – ebook, paperback, audio
Synopsis
I didn't need the cherry red stilettos and tight mini skirt to make an impression, but I'm a firm believer in going big or going home. Plus, those shoes cost me a small fortune, so why not flaunt them?
The last thing I'd have expected was that the one man I could hardly bear to share the same breathing space with would find me and my shoes appealing enough to break his firm stand on not getting down and dirty with a colleague.Had I been wearing panties that night, we'd have never gone there. Regardless, we needed the release and believed it would be a one time deal—an unspoken truth. Note to Self – regarding unspoken truths – the heart never lies.
Purchase Online From:
7) How did you go about researching the content for your book?
Research is important, especially if you have little or no background in a subject you are writing about. I'd always loved the business of advertising and so the Creative Director allowed me to have some fun with slogans and marketing strategies as I wrote the story. I worked in marketing several years ago, therefore I was confident that I could pull off this backdrop while I developed the characters and how they fall in love.
8) How long did it take to go from the ideas stage to writing the last word?
As mentioned prior, I write a 70,000 to 80,000-word manuscript in 30 days. This novel was typical of that time frame.
9) What made you choose the genre you write in?
I'm an incurable romantic and love a HEA or HFN ending. I don't know that I could be as effective in any other genre.
10) How did you come up with the name(s) for your lead character(s)?
I have no means to my madness in naming characters. I envision what my character looks like in my head and then a plausible name just appears on the page. Sometimes I will change the name(s) as the story develops but that is rare.
For Brantley, I wanted a unique and stuffy-sounding name. The car manufacturer Bentley came into my head and so I played around with that and arrived at Brantley. And since the name is so unique I decided to have some fun with it in the storyline and I like how that unfolded in bits and pieces until the very end of the book when the real reason he calls himself Brantley is revealed.
11) Can you give us an insight into your characters?
Jessica is driven, determined to win, and a bit selfish. Brantley is an ex-pat Englishman who is similarly driven, closed off in his private life, and hard-edged in nature. They are (at first) two bulls in a china shop that have to learn to work with each other, rather than against.
12) How did you feel when you had completed your book?
Each book holds a special place in my heart. I was confident with the story overall, and my editor felt it was the best book I'd written to date. As long as I'm learning and improving as a storyteller I'm a happy girl.
Fun Questions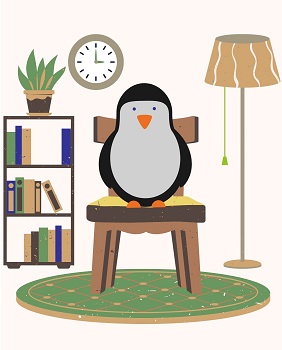 1) Do you have a favourite quote you live by?
There are so many motivational and sage quotes that I've liked but none of them is a favourite. If I had to pick one, and this is quite boring, I'd say 'be yourself'.
There have always been pets in our house. Usually two dogs at a time. Currently we have a rescued girl from Puerto Vallarta named Ellie Maya, a senior Labrador named Hudson and a rescued local cat named Mittens.
We've had lizards in the house too, but that was when the kids were young and a friend needed to unload them on somebody before they left to move to San Francisco. I love all animals, but if you asked me to look after a snake or a spider that would be a hard no.

3) What's on your current reading list?
I have found the most amazing horror writer recently and so I've been reading his work exclusively lately. Kealan Patrick Burke is a brilliant storyteller. I've read The Turtle Boy, Sour Candy, The House on Abigale Lane, and now I'm reading Master of the Moors. Other than Mr. Burke's works, I picked up The Wives by Tarryn Fisher last week at Costco, but I've not started it yet.
4) Your book has been made into a feature film, you've been offered a cameo role, what would you be doing?
Oh, great question! I'd love to play Carol, the office manager in The Creative Director.
5) If you could travel to the fictional world of any book for the day, which would you choose?
Any book which uses Ireland as a backdrop is good with me. So many great stories come from such a rich and beautiful landscape.
It feels very romantic to me. I'm currently working on a new project titled The Irishman's Promise so we'll see how well I can depict the beauty of Ireland as I pen this fictional love story.
6) There's a penguin sitting in your writing chair, what is the first thing he says to you?
"I'm not leaving this seat until you share a piece of your chocolate bar with me."
---
I would like to say a big thank you to Sandra A. Sigfusson for sharing with us details of her writing life and for a wonderful interview.
Author links





---
Share your thoughts on our interview with Sandra A. Sigfusson in the comment section below!
---
The above links are affiliate links. I receive a very small percentage from each item you purchase via these link, which is at no extra cost to you. If you are thinking about purchasing the book, please think about using one of the links. All money received goes back into the blog and helps to keep it running. Thank you.
Like us on Facebook – Tweet us on Twitter – Pin us on Pinterest