The Upside-Down Detective Agency by Ellie Hattie – Book Review
The Upside-Down Detective Agency by Ellie Hattie – Book Review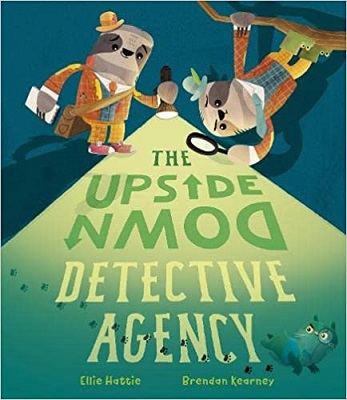 The Upside-Down Detective Agency
Author – Ellie Hattie
Illustrator – Brendan Kearney
Publisher – Little Tiger Press
Release Date – 9th June 2022
Pages – 32
ISBN 13 – 978-1801041621
Format – Hardcover
Star Rating – 4
I received a free copy of this book.
This post contains affiliate links.

Synopsis
An interactive crime caper with lots of clues to look and spot.
STOP THIEF! Someone has stolen the diamond warp drive from Lady Velocity Speed's car. Without it she'll never win The Big Race! Can super-sleuthing sloths Stan and Stella crack the case? Maybe with a helping hand . . . (Hey, reader – that's you!)
This immersive adventure will go down well with little mystery lovers.
In The Upside-Down Detective Agency, we meet two sloths who are detectives, Stella and Stan. Their first case of the day is to help racing car driver Veronica Velocity Speed to find out who took her diamond warp drive from her car.
The story is interactive as each page asks the reader to help the detectives do their job and find something within the illustrations before moving on to the next page.
Talking of the illustrations, these are full-page, bright, colourful, and are the main focus of the book.
I really enjoyed this book and I can see young readers loving it too. I mean who doesn't love a book featuring sloths, especially detective ones. Plus, being interactive, children will get so much more out of it than just an adventurous, mystery story.
---
Purchase Online:
Ellie Hattie
Ellie has always loved picture books. As a little girl she thought it would be pretty cool to work on them – and even more amazing to write one. After a lot of dithering, cups of tea, and creative support from the fab people in her life she finally managed to do both. Ellie lives in London and her next life goal is to own a cat. A fluffy one.
---
The above links are affiliate links. I receive a very small percentage from each item you purchase via these links, which is at no extra cost to you. If you are thinking about purchasing the book, please think about using one of the links. All money received goes back into the blog and helps to keep it running. Thank you.