Little Otter Learns to Swim by Artie Knapp – Book Review
Little Otter Learns to Swim by Artie Knapp – Book Review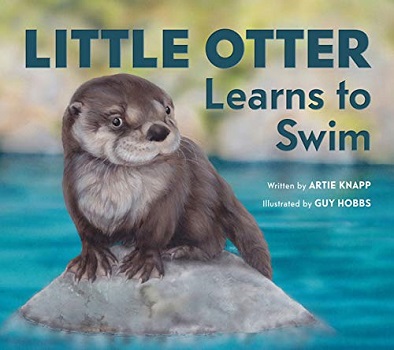 Little Otter Learns to Swim
Author – Artie Knapp
Publisher – Ohio University Press
Pages – 32
Released – 12th September 2018
ISBN-13 – 978-0821423400
Format – ebook, hardcover
Reviewer – Stacey
Rating – 5 Stars
I received a free copy of this book
In this endearing and beautifully illustrated picture book, a baby river otter learns to swim, dive, and play in her natural habitat. Encouraged by her mother, the little otter soon sets out to explore on her own, quickly learning to escape shoreline predators and to find her way back to the security of home.
From children's author Artie Knapp and wildlife artist Guy Hobbs, Little Otter Learns to Swim is an entertaining and colorful tale for ages four and up. The story is followed by two pages of fun facts about river otters as well as information and resources from the River Otter Ecology Project.
Little Otter Learns to Swim, must be one of the most beautiful children's books I have ever had the pleasure of reading. The rhyming words tell the story of how little Otter learned to swim and the fun that was had, as well as how the river is the safest place from all the predators.
Each page is adorned with the most outstanding illustrations from wildlife artist Guy Hobbs, the pictures look so real and you would be forgiven for mistaking them for photographs – They are that good and cover every page. These alone are worth buying the book for, but together with the delightful engaging story, if your child loves nature then this is a must purchase.
The sentences are short and would be perfect for a new reader, although none readers would be able to tell the story via the images alone. It would work well for use as a class project on the animals.
At the back of the book is information on North American Otters and how those in the US can help them, as well as information for teachers too. I didn't realise that trapping is still allowed in some States in the US for capturing the Otters for their fur – This needs to stop.
This book is so heartwarming and mesmerising and I just adore it and couldn't give it anything less than five stars.
Reviewed by Stacey
---
Purchase online from:
---
About the Author

American writer Artie Knapp is the author of close to 40 published children's literature works that includes books, videos, stories and poems. These works have been featured in over 300 publications across the world.
In Asia, distinguished publishers Orient BlackSwan, the Chart Institute and Oxford University Press have used Artie's stories in course books across India and Japan. Among his writing credits are the children's books, "Stuttering Stan Takes a Stand," and "Living Green: A Turtle's Quest for a Cleaner Planet," a shortlist finalist for the Green Earth Book Award.
Artie is a member of The Society of Children's Book Writers and Illustrators, and graduated from Ohio University. He lives in Cincinnati, Ohio, with his wife and daughter.




---
Blog posts straight to email via Bloglovin – Like us on Facebook – Follow us on Twitter