Jacob Starke Loves the Dark by Peta Rainford – Book Review
Jacob Starke Loves the Dark by Peta Rainford – Book Review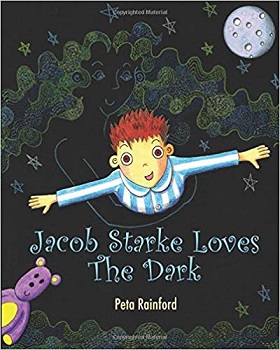 Jacob Starke Loves the Dark
Author – Peta Rainford
Publisher – Dogpigeon Books
Pages – 32
Released – 30th September 2018
ISBN-13 – 978-0995646520
Format – paperback
Reviewer – Stacey
Rating – 5 Stars
I received a free copy of this book
Are you afraid of THE DARK? Jacob Starke is. Jacob Starke is TERRIFIED! Until, that is, he gets to meet The Dark face-to-face and shares an amazing adventure through the wonders of the night sky.
Jacob Starke Loves The Dark is a charming rhyming picture book about being brave, outer space, loving plants and animals and the importance of Dark Skies. An important environmental issue is tackled with beautiful illustrations, humour and a light touch.
Jacob is afraid of the dark. Every night he goes into all the rooms in his home and switches on the lights. He even wears a light on his head to bed. One night the lights all go out, including the one on his head. He is in total darkness, that's when the night shows him it is nothing to be scared of and why the dark is important as much as the light.
The book is just beautiful, both the rhyming words and the illustrations. It is exceptionally engaging and I'm sure that children will not only enjoy a fab story they will also learn a lot too about what the dark does and why nature needs it.
For any child that is afraid of the dark, this book is a must. It will reassure them in a relaxing manner and make them understand that there is nothing to fear.
Coming back to the illustrations, these have been drawn with so much love and care. I especially love the night scenes with their black backgrounds and colours that really stand out.
This book is truly wonderful. It has short sentences and as it rhymes, young children who are just learning to read will find this easy to follow. It would work perfectly as a bedtime read to ease those woes about the dark.
Reviewed by Stacey
---
Purchase online from:
---
About the Author

Peta grew up on the Isle of Wight so long ago she can remember dancing to the Bay City Rollers, Saturday mornings watching Multi-coloured Swap Shop and buying crisps from the school tuck shop for 2½p.
As a child she loved words and was always reading. She loved painting and drawing too, but she had no idea what she wanted to do when she grew up.
She studied English at York University and then worked in London as a business journalist and editor for 14 years. In her spare time she went to art classes and even studied fine art at St Martins, but she still had no idea what she wanted to do when she grew up.
She had a go at running a small hotel with her husband in wild and windy (but beautiful) Exmoor and it went quite well, but after a few years they needed a sit down. So they sold up and moved back to the Isle of Wight.
It was here that Peta, now balancing the roles of freelance writer and mum, decided to write and illustrate her first book for children. It was a revelation to her: a way of combining picture making (colouring in) with her love of words (silly stories) – not to mention an outlet for her awful jokes.
It may have taken more than four decades, but finally, Peta knows what she wants to do when she grows up.





---
Blog posts straight to email via Bloglovin – Like us on Facebook – Follow us on Twitter