That Fruit Is Mine! by Anuska Allepuz – Book Review
That Fruit Is Mine! by Anuska Allepuz – Book Review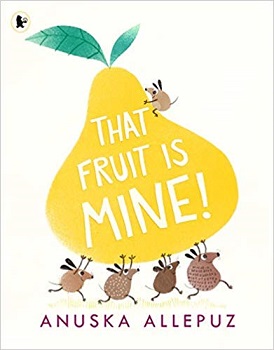 That Fruit Is Mine!
Author – Anuska Allepuz
Publisher – Walker Books
Pages – 32
Released – 7th March 2019
ISBN-13 – 978-1406382860
Format – paperback, hardcover
Reviewer – Stacey
Rating – 5 Stars
I received a free copy of this book.
This post contains affiliate links.
Five goofy, greedy elephants are up against five teeny-tiny mice in this picture book parable for modern times.
One day, deep in the jungle, five elephants discover a new tree – a tall tree – and, atop that tree, the most mouth-wateringly delicious fruit any of them had ever seen. "MINE!" each elephant cries. "Mine, mine, mine, mine, MINE!" But who will get there first? And will the elephants spot the five tiny mice, planning and plotting, slowly approaching that tip-top branch?
With fresh vision, hilarious characterization and beautifully textured art, Anuska Allepuz tells a tale of teamwork and sharing; a comedy and fable with a contemporary edge.

Deep in the jungle live five elephants, each of the elephants loves a different fruit, that is until they come across a very tall tree with exotic looking fruit dangling from its branches.
Then, each of the elephants decides that they want the fruit and so they all cry out 'MINE' and try different ways of getting the fruit to drop from the tree. What they hadn't noticed were five little mice working together to get the fruit.
The elephants are astonished that the mice worked together and soon they learn that it's better to work together than alone as together they just might be able to get to the fruit.
This is a very sweet children's book that emphasises the message of working together and being part of a team rather than trying to do something alone when others are trying to get to the same goal.
The elephants each come up with clever ideas to get the fruit to drop but they just won't work when they do it alone. The mice are very clever and know how to work together.
The book has been beautifully illustrated and the pictures really do capture the hilarity of the story and the expressions perfectly. They will certainly give children a laugh.
This is a book about teaching cooperation and problem-solving and would be a wonderful book to read in school and maybe do a class project about working together, as well as a bedtime story too.
Book Reviewer – Stacey
---
Purchase online from:
---
About the Author
Anuska Allepuz studied Fine Arts at the University of Salamanca in Spain and the Academia di Belle Arti di Carrara in Italy, before undertaking postgraduate illustration courses at EINA, Barcelona and the Cambridge School of Art.
A rising talent in the world of illustration, Anuska has been highly commended in the Macmillan Prize for Children's Illustration and shortlisted for the 2012 and 2014 AOI awards. She is the author-illustrator of That Fruit is Mine! and the illustrator of A Bear is a Bear, written by Karl Newson. Originally from Madrid, Anuska now lives in Cambridge.


---
The above links are affiliate links. I receive a very small percentage from each item you purchase via these link, which is at no extra cost to you. If you are thinking about purchasing the book, please think about using one of the links. All money received goes back into the blog and helps to keep it running. Thank you.