Captain Sparklebeard by Timothy Knapman – Book Review
Captain Sparklebeard by Timothy Knapman – Book Review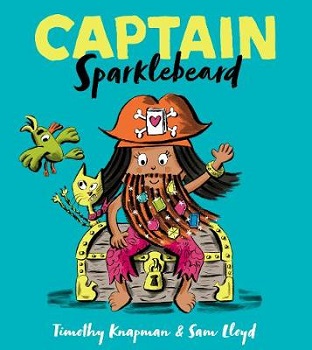 Captain Sparklebeard
Author – Timothy Knapman
Illustrator – Sam Lloyd
Publisher – Egmont
Pages – 32
Released – 7th March 2019
ISBN-13 – 978-1405291316
Format – paperback
Reviewer – Stacey
Rating – 5 Stars
I received a free copy of this book.
This post contains affiliate links.
FOR REBEL GIRLS WITH BIG DREAMS! ARRRRR you ready for this unmissable girl power adventure?
Join Captain Sparklebeard as she sets sail against the seas and dares to be different!
Peg dreams of adventure and has big ambitions, but when she asks to join the pirates crew they won't let her join because she's too small and she doesn't even have a beard! But can Peg prove, against all odds, that she's the greatest pirate there ever was?
Perfect for fans of the chart-smashing Fantastically Great Women Who Changed the World and tapping into the huge demand for stories featuring strong female characters, this is a pirate story like no other. Peg's determination, ambition and courage to be herself will inspire a whole new generation of rebel girls. Smashing gender stereotypes and with an inclusive cast of characters, this is the must-have book to empower young children to have the courage to be themselves.
So, buckle up, grab your sparkliest beard and get ready to join the best crew that ever sailed the seven seas!

Peg lived with her wicked Step-Great-Grand-Auntie who made her do all the work whilst she sat and watched. One day whilst she was out walking her Auntie's cat she saw that a ship with pirates had come to town. Peg loved pirates and had read many books featuring them. She had an idea, why not ask the pirates if she could join them.
Peg asked the captain of the ship, Captain Hairy-Ears if she could be a pirate too, but the pirate laughed at her and told her, pirates don't read books, they don't ask nicely, they aren't small and they all have beards.
Peg was angry, she could be the best pirate ever and so she came up with a plan to show Captain Hairy-Ears just how good she could be.
Captain Sparklebeard is a beautifully illustrated book that shows that people should not underestimate others. Peg is a lovely character who is made to do horrible jobs by her Auntie. When she sees a way to change her life she is determined to make her dreams come true and she goes for it. She isn't happy when the Captain of the ship dismisses.
She doesn't let the Captain upset her though she comes up with a plan, a very clever plan at that. She will show the Captain and his crew just how good she can be by disguising herself and finding the treasure on their treasure map before they do. You see Peg is educated and understands how to read a map properly, she is pragmatic and knows what it takes to get past obstacles and she is strong-willed and doesn't give up easily.
The book is all about empowerment and being the best you can. I love that Peg is polite and won't change that to be a pirate and that she is educated too and is proud of that fact.
This is a book that will show children they can be who they want to be and that size and gender should never stand in your way.
Reviewed by Stacey
---
Purchase online from:
---
About the Author

Tim Knapman writes plays, musicals, songs and children's books and has been published by Simon & Schuster, Puffin, Macmillan, Scholastic, Hachette, Egmont UK and many more. His previous books include the bestselling Dinosaurs in the Supermarket, Dinosaurs Don't Have Bedtimes and Superhero Dad.
His books have been translated into 20 languages and several have been read on CBeebies bedtime stories. Tim has done more than 100 events and readings in schools, colleges, bookshops, fairs, libraries and festivals.
He lives in Sussex and his hobbies include swashbuckling.




---
The above links are affiliate links. I receive a very small percentage from each item you purchase via these link, which is at no extra cost to you. If you are thinking about purchasing the book, please think about using one of the links. All money received goes back into the blog and helps to keep it running. Thank you.