The Turnaway Girls by Hayley Chewins – Book Review
The Turnaway Girls by Hayley Chewins – Book Review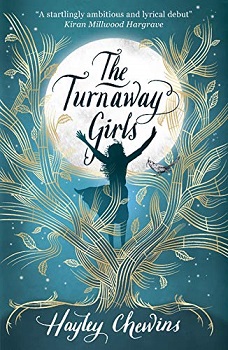 The Turnaway Girls
Author – Hayley Chewins
Publisher – Walker Books
Pages – 272
Released – 3rd January 2019
ISBN-13 – 978-1406379839
Format – ebook, paperback, hardcover, audio
Reviewer – Stacey
Rating – 4 Stars
I received a free copy of this book.
This post contains affiliate links.
Delphernia Undersea wants to sing. But everyone on Blightsend knows music belongs to the Masters – and girls with singing throats are swallowed by the sea.
On the strange, stormy island of Blightsend, twelve-year-old Delphernia Undersea has spent her whole life in the cloister of turnaway girls, hidden from sea and sky by a dome of stone and the laws of the island. Outside, the Masters play their music. Inside, the turnaway girls silently make that music into gold. Making shimmer, Mother Nine calls it.
But Delphernia can't make shimmer. She would rather sing than stay silent. When a Master who doesn't act like a Master comes to the skydoor, it's a chance for Delphernia to leave the cloister. Outside the stone dome, the sea breathes like a wild beast, the sky watches with stars like eyes, and even the gardens have claws. Outside, secrets fall silent in halls without sound. And outside, Delphernia is caught – between the island's sinister Custodian and its mysterious Childer-Queen. Between a poem-speaking prince and a girl who feels like freedom.
And in a debut that glimmers with hope and beauty, freedom – to sing, to change, to live – is precisely what's at stake.

Twelve-year-old Delphernia is a turnaway girl. She lives on Blightsend, a strange little island that seems to be ruled by the sea and lives inside in the cloisters. The job of the turnaway girls is to make gold by turning music into shimmer. They are not allowed to sing or the sea will take them. Deplhernia maybe a turnaway girl but she can't make shimmer, she also has too many thoughts which annoy her teacher – Mother Nine. Plus, she really wants to sing.
Once a year masters come to choose a turnaway girl and those left become like slaves to Mother Nine. Just when all hope is lost and it seems that Delphernia won't be chosen, a saviour comes for her. It is now her time to experience the outside, see the sky and be free. However, the outside is not as nice as it first seems and is full of mysteries.
The Turnaway Girls is an unusual, yet enchanting book about the plight of one twelve-year-old girl who has been brought up to believe she is nothing more than a girl to serve others and not worthy. A turnaway girl is someone who as a baby turns away from their reflection in the mirror placed inside their cot. They are brought up to turn music into shimmer (gold). Their purpose is to line the pockets of their masters.
As a baby the girls have part of their hearts taken, the part that stops them asking questions, however Delphernia was born at the time of a festival and so part of her heart wasn't taken, because of this she has lots of questions and as she is different from the other girls she feels like she doesn't fit in. This all infuriates Mother Nine who sees fit to punish her for any little thing she does wrong, Mother Nine doesn't like different.
The story is about a young girl having felt like she doesn't belong for the last twelve years suddenly realising that there is a big world outside of the cloister. She discovers that there are other people who feel like they don't fit in and that sometimes you have to fight for what you believe in and be who you want to be.
The book is intriguing and poetic. At times it was a little confusing and I did re-read sections yet never once did I feel put out by this. This is a powerful debut from author Hayley Chewins and I'm sure lots of people will be able to identify with Delhernia about not being seen as 'normal'. As her friend Linna says, 'Odd people are the best'.
Reviewed by Stacey
---
Purchase online from:
---
About the Author

Hayley Chewins grew up in Cape Town, South Africa, in a house so full of books that she learnt to read by accident. The second eldest of four daughters, she sang incessantly as a child. So incessantly, in fact, that she was sent to lessons twice a week in the interests of household peace.
Hayley studied classical voice for a year before switching to a degree in English Literature and Italian. She lives in Johannesburg, South Africa, in a house full of art and music and color, with her husband and a very small poodle. She believes in two things above all else: the magic of love, and the heroism of sisters.



---
The above links are affiliate links. I receive a very small percentage from each item you purchase via these link, which is at no extra cost to you. If you are thinking about purchasing the book, please think about using one of the links. All money received goes back into the blog and helps to keep it running. Thank you.