A Rainforest Adventure by Sharon C. Williams – Book Review
A Rainforest Adventure by Sharon C. Williams – Book Review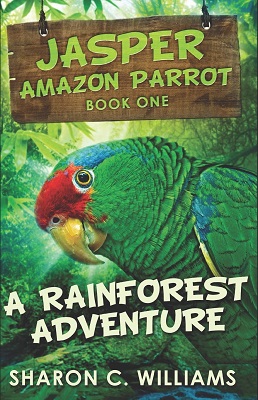 A Rainforest Adventure
Jasper Amazon Parrot Book One
Author – Sharon C. Williams
Pages – 76
Released – 23rd June 2019
ISBN-13 – 978-1075671784
Format – ebook, paperback
Review by – Stacey
Rating – 4 Stars
I received a free copy of this book.
This post contains affiliate links.


Jasper is no ordinary parrot.
He lives in the rainforest, which secrets he's eager to explore. Jasper loves his home and his family, and he's also in charge of his younger brother Willie – a responsibility Jasper takes very seriously.
When he meets Charlie – a spider monkey with a penchant for food and a laid back attitude – he realizes he's in for an adventure he never thought possible. Even if this means getting into danger and worrying his mother to no end.
Exploring the boundaries of the forest, Jasper understands that there is more to the world around him. Who are the strange new creatures that have come there? With Willie and Charlie by his side, he will soon find out.

Book one in the Jasper the Parrot series begins with the hatching of Jasper and his brother Willie and their first adventures in the Rainforest from dealing with dangerous red ants to trying to fly before their wings are ready. Their mum Sally certainly has her work cut out with the two lively characters.
The book is very imaginative and has a lot of poignant moments that will teach children right from wrong, such as not doing something you know is wrong just because someone else wants you too. The two parrots are both humorous and lovable and they were enjoyable to read about.
The book is split into nine chapters which are each quite short and I read the book in under thirty minutes, though a child would probably take longer. It is the perfect size for those that would like to move on for picture books but are not ready yet for longer stories.
My only disappointment is that the book didn't contain any illustrations, I don't know whether this is just my advance copy (I checked on look inside on Amazon and didn't see any either). With the front cover being so colourful and the book being, in my opinion, a step up from picture books, I think it needs at least one illustration, whether colourful or black and white per chapter, but like I said that is just my preference.
Overall, it is a lovely book that will keep children entertained from beginning to end as they follow Jasper and his one day younger brother Willie who finds themselves in some strange, scary, and sometimes amusing situations. It is also educational.
Book Reviewer – Stacey
---
Purchase online from:
---
About the Author
Sharon C. Williams is a native of New England raised in Northern Maine. She lives in North Carolina with her husband and son. She is also owned by a flock of birds.
Sharon has a B. S. degree in Chemistry. She loves to read, sketch, take pictures, walk, exercise, go to the movies, and listen to music. She is a budding bird watcher, and knits on the side. She is a huge sports fan of baseball, basketball, hockey, and football. She is also a shutterbug and is always looking for the next big shot.
Sharon tends to write by long hand as the flow works better for her this way. Her bookshelf consists of works written by Stephen King, Agatha Christie, Bentley Little, and James Patterson. The best advice she has ever received about writing was to write about what you know. Her first thought was, "Yeah right," but it really is that easy. A writer just needs to know a little tidbit to turn it into a short story, and soon enough, there's a book.




---
What did you think of A Rainforest Adventure? Share your thoughts in the comment section below!
---
The above links are affiliate links. I receive a very small percentage from each item you purchase via these link, which is at no extra cost to you. If you are thinking about purchasing the book, please think about using one of the links. All money received goes back into the blog and helps to keep it running. Thank you.
Like us on Facebook – Tweet us on Twitter – Pin us on Pinterest