Bullied by Scott Langteau – Book Review
Bullied by Scott Langteau – Book Review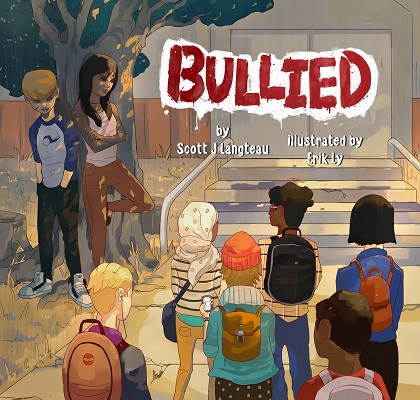 Bullied
Author – Scott Langteau
Publisher – Shake the Moon Books
Pages – 56
Released – 15th August 2018
ISBN-13 – 978-0692143339
Format – ebook, hardcover
Review by – Stacey
Rating – 4 Stars
I received a free copy of this book.
This post contains affiliate links.


A wonderful parent and classroom resource for books on bullying, BULLIED follows the day-to-day struggles of 7 young targets of aggression alongside their tormentors from adolescence to adulthood in a story spanning decades.
Written by veteran Video Game Producer and bullying survivor Scott Langteau, BULLIED is a modern-day inspired anti-bullying picture book that casts light on a route to self-acceptance and empowerment by taking readers on a realistic modern journey of bullying scenes from today's middle school landscape. On that journey, readers discover that accepting and staying true to oneself and examining one's behavior and its motivations serve as powerful and empowering messages for both the bullied, and bully alike. A Mom's Choice award recipient for 2019.

Bullied tells the story of Billy and Bella Bully who were horrible to the kids at their school. They would pick on their classmates for the way they dressed, for their size, and even for doing well in class.
The book told in a rhyming style showing the pair bullying seven different teenagers before it moves on to the kids as grown-ups and what has become of the teenagers and Billy and Bella.
I think any book that deals with bullies are worth a read and with this one aimed at older kids, whilst most books on bullying are aimed at little children, I can see this being a worthwhile read for any child going through something similar or even for someone who is a bully to read to see what their actions can cause, not just for others but for themselves later down the line.
The illustrations are amazing and emphasis what the book is about and shows the reactions and emotions of all those involved.
I do believe this is a fabulous and insightful book and though it is quite short it has a powerful message. Whilst I can see that the author has tried to put a positive spin on the situation as in the teenagers who were bullied go on to have great jobs whilst the bullies are on low-income jobs and regret their actions, there are too many in this world where this isn't the case, bullied kids with no ambitions because they have been left feeling worthless, whilst the bullies go on to become successful. I really wish the latter was the way it worked but too often it isn't the case.
Book Reviewer – Stacey
---
Purchase online from:
---
About the Author

Growing up in the small town of Seymour Wisconsin, playtime came ready-made with Scott's 11 brothers and sisters. No lie! Having fun then meant grabbing a sibling, heading outside and imagining a world around you. That imagination brought Scott Theater degrees from the University of Wisconsin – Stevens Point and Villanova University before bringing him to L.A. where he's worked as a producer, writer, and actor for over 20 years.
Best known for his work on the highly acclaimed "Medal of Honor" & "Call of Duty" video game franchises, Scott has done work for companies including Disney, Pixar, DreamWorks, EA Games, and the Jim Henson Company.


---
What did you think of Bullied? Share your thoughts in the comment section below!
---
The above links are affiliate links. I receive a very small percentage from each item you purchase via these link, which is at no extra cost to you. If you are thinking about purchasing the book, please think about using one of the links. All money received goes back into the blog and helps to keep it running. Thank you.
Like us on Facebook – Tweet us on Twitter – Pin us on Pinterest