Final Chance by E.B. Roshan – Book Review
Final Chance by E.B. Roshan – Book Review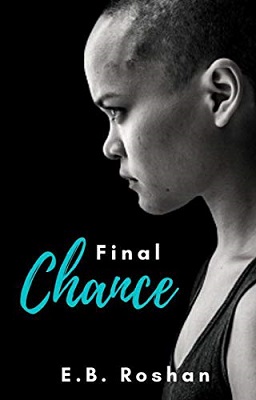 Final Chance
Author – E.B. Roshan
Publisher – Roshan Publishing
Pages – 125
Released – 4th July 2020
Format – ebook
Review by – Stacey
Rating – 3 Stars
I received a free copy of this book.
This post contains affiliate links.


Three months have passed since Preen learned that her husband, Rama, was captured and killed by a rival militia. Now the pieces of her shattered life are falling back into place. It's getting easier to breathe again.
Preen finds herself smiling over her daughter's antics. She's engaged to her wealthy, handsome cousin, who loved her long before Rama stole her heart. Then, late one night, Rama calls. He asks Preen to come back to the dangerous city of Dor, back to the life she thought she'd left behind forever…

Final Chance is an interesting and poignant book with a great cast of characters. The book opens in July 2020 in what came across as a middle-eastern country judging by the landscape and the characters/place names. We meet Preen and her boyfriend Rama, who is expecting a child, though no one knows this yet.
Rama is explaining to Preen that he has to go to the city of Dor for work to pay off his father's debts and that he will be there for two years.
The book then moves forward in time to 2023 with Preen coming to terms with the death of her husband after a war in the city between two rival militia. That is until one night she receives a phone call from him asking her to come to Dor to be with him.
The story at just 125 pages long is a quick read. I liked the main characters, especially Preen who was so headstrong, although she was a little rash. However, the world-building to me lacked. It was hard to imagine what the places/scenery looked like. The secondary character's stories also felt left out, but then this is a novella so no time really to focus on them I suppose.
I also wasn't a lover of the flashbacks which just seem to appear, were random in time and came often. I became confused by the story on more than one occasion and had to re-read sections as the flashbacks had thrown me off.
Overall, it is a short, quick read that was different from anything I had read before but I wanted more backstory, more world-building, and fewer flashbacks. I know that sounds contradictory but I would have preferred the book to have been written in chronological order then keep having flashbacks, just one of my bugbears in books, sorry.
Book Reviewer – Stacey
---
Purchase online from:
---
About the Author

E.B. Roshan has enjoyed a nomadic lifestyle for several years, living in the Middle East and Asia, but is now temporarily settled in Missouri with her husband and two sons.
When she's not cleaning, cooking or chasing after the boys, she's writing the latest installment of her ongoing Romantic Suspense series, Shards of Sevia.


---
What did you think of Final Chance? Share your thoughts in the comment section below!
---
The above links are affiliate links. I receive a very small percentage from each item you purchase via these link, which is at no extra cost to you. If you are thinking about purchasing the book, please think about using one of the links. All money received goes back into the blog and helps to keep it running. Thank you.
Like us on Facebook – Tweet us on Twitter – Pin us on Pinterest