Expedition Borneo by Daniel Side – Book Review
Expedition Borneo by Daniel Side – Book Review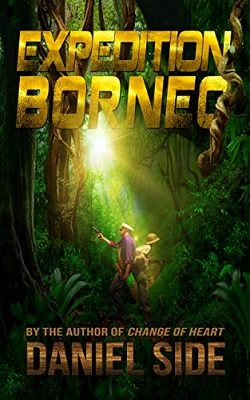 Expedition Borneo
Author – Daniel Side
Release Date – 21st February 2022
Pages – 449
ISBN 13 – 979-8536240724
Format – ebook, Paperback
Star Rating – 5
I received a free copy of this book.
This post contains affiliate links.

Synopsis
AN ADVENTURE LIKE NO OTHER.
One part, exotic, jungle setting, one part romance, and two parts gripping, heart-pounding suspense.
Borneo, 1941 – A century after he is washed down the Kalabakan River near death, the discovery of a crude map lends credence to the "Legend of the Riverman". The legend, if proven true, could influence the course of the war and save tens of thousands of lives.
Living in a beach shack, salvage diver Jake Bennett knew a couple of things for sure: he needed a job, he didn't want to die in the jungle… but he'd never met anyone like "nurse" Brockman.
The last place he wanted to be was on the Borneo coast, waiting for the Japanese to invade the island. That's why he agreed to guide British Red Cross nurse Katherine Brockman into the jungle's interior to check the condition of malaria in native villages. At least that's what he kept telling himself.
The two clash when Jake discovers that the mission has nothing to do with malaria. Worst still, Katherine suspects that she's not the only one searching for the truth behind the legend. And she worries about Jake Bennett, the charismatic, wild card in the mix.
Soon, the dangers of the jungle, wrapped in the unforgiving heat, threatens to end not only their mission, but their lives.
However, nothing can prepare them for what they discover, hidden deep in an unexplored jungle basin.
Daniel Side's novel, Expedition Borneo, starts with Jake Bennett waking up in the morning. His current girlfriend of three months is getting dressed and announced that she was tired of their lifestyle and was leaving him. Jake shrugs and gets up and goes to his job in Tawau, Borneo as a deep-sea diver with his best friend, Tam. Tam was a native of Borneo. Jake was Canadian and moved to Borneo, a large island between Malaysia and Indonesia, twenty years ago after he fought in WW1. It was now 1941—a week after the Japanese bombed Pearl Harbor. Jake and Tam were both heavy drinkers.
A gorgeous, blond British nurse, Katherine Brockman, enters the bar and Jake manages to start a conversation with her. There were two other British-speaking blokes at the bar. Days later, another bloke, William Fisher, arrives. He approaches Katherine and explains that he has been ordered to help her travel into the jungles on the island's interior. Fisher hires Jake and Tam as guides to get them to the village of Kalabakan, Tam's hometown, to help treat malaria. It wasn't until they got to the village that Jake found out the real purpose of the mission was.
The trip to the remote area encounters more and more dangerous and different perils every day. Jake is an unlikely but excellent hero, and Katherine is a surprisingly very determined and competent heroine.
Expedition Borneo was a great read. The characters Kathrine, Jake, Tam, and Fisher are expertly developed with plenty of surprises, twists, and turns. The supporting characters were fascinating and the action was non-stop and survival seemed hopeless many times.
The novel was expertly edited. I easily rate this novel five stars and recommend it for all readers, regardless of your preferred genre. It even has a slow-developing romantic theme.
---
Purchase Online:
Daniel Side
My first book was co-authored with my cousin at eighteen, written on typewriters using carbon paper. An English mystery novel, he wrote one chapter, I wrote the next. It was a sure fire scheme (one of many) to make us a lot of money. Surprisingly, the offers didn't roll in. But I guess it was the first feeble start of my writing career.
Take some time out: to raise a family, have a teaching career, write and produce school plays, build our log home, restore a classic Mustang, a '69 Mach 1 for enthusiasts, and go on lots of canoe trips up north in Algonquin Park.
Twenty years later, unable to find a science fantasy adventure I liked, to the encouragement of my wife, I wrote my own. Now here I am working on book number five.
So what do you have waiting in store for you? My books are varied, but whether it's suspense, a thriller, or an adventure story, all contain characters in trouble who you will care about and root for.
He's never perfect and neither is she, but the attraction is inevitable as they learn about each other on an adventure seldom of their choosing.
I like to write the stories that this author would like to read. I'm willing to bet that you'll enjoy them too.
---
Share your thoughts on Expedition Borneo in the comment section below!
---
The above links are affiliate links. I receive a very small percentage from each item you purchase via these links, which is at no extra cost to you. If you are thinking about purchasing the book, please think about using one of the links. All money received goes back into the blog and helps to keep it running. Thank you.
Like us on Facebook – Tweet us on Twitter – Join us on Instagram