The Mystery of the Golden Pyramid by Adela Norean – Book Review
The Mystery of the Golden Pyramid by Adela Norean – Book Review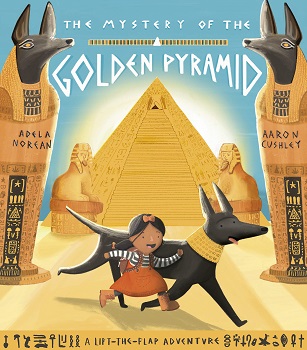 The Mystery of the Golden Pyramid
Author – Adela Norean
Illustrator – Aaron Cushley
Publisher – Little Tiger Press
Pages – 24
Released – 1st April 2021
ISBN-13 – 978-1788817073
Format – hardcover
Rating – 4 Stars
I received a free copy of this book.
This post contains affiliate links.


Synopsis
A talking dog. A jewelled casket. A quest for stolen treasure . . . Join Sophie on a magical Egyptian adventure. Lift the flaps and peep through the die-cuts to help her save King Nebra and solve the mystery of the golden pyramid.
A lift-the-flap, action-packed adventure story!
The Mystery of the Golden Pyramid is an exciting children's adventure book about the search for some missing amulets. Young Sophie is shocked one morning to find a talking dog sat in her bedroom and with him is a casket containing a puzzle.
Sophie is a descendant of King Nebra of Egypt and she is tasked with finding the amulets that were stolen from the King's tomb, which he wants back.
Together with Ari the dog, the pair set off on a journey to recover the amulets and make the King happy again.
I have mixed feelings about this book which will be explained below. Firstly, I think the book is entertaining and both Sophie and Ari are lovely. They visit some interesting places and talk to some characters you might not expect to be speaking on their travels across water and desert looking for the amulets.
The illustrations are amazing. They are full-page and colourful, plus wonderful to look at. There are also lift-the-flaps parts that make the book interactive too.
I would say this book is aimed at middle-grade readers or confident readers as there is quite a lot of text in parts and delicate flaps to turn.
My tiny concern with the book is that whilst King Nebra is a real Egyptian king I can't find any information on any amulets or even that he had children. Knowledge of the King is sparse and I felt kind of cheated. I was expecting the information in the book to be factual so that it educated children in a fun manner. Had they used a fake King's name then this wouldn't have bothered me. Hence my mixed feelings.
Purchase Online From:
---
What did you think of 'The Mystery of the Golden Pyramid'? Share your thoughts in the comment section below!
---
The above links are affiliate links. I receive a very small percentage from each item you purchase via these link, which is at no extra cost to you. If you are thinking about purchasing the book, please think about using one of the links. All money received goes back into the blog and helps to keep it running. Thank you.
Like us on Facebook – Tweet us on Twitter – Pin us on Pinterest – Join us on Instagram