Hologram Conspiracy by Ed Sheehan – Book Review
Hologram Conspiracy by Ed Sheehan – Book Review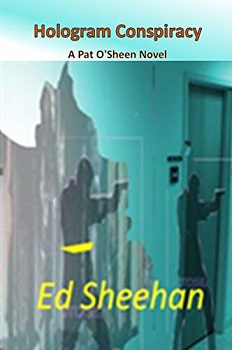 Hologram Conspiracy
Pat O'Sheen Thriller Book One
Author – Ed Sheehan
Pages – 348
Released – 23rd November 2018
ISBN-13 – 978-0988859616
Format – ebook, paperback
Reviewer – Marcia
Rating – 3.5 Stars
I received a free copy of this book.
This post contains affiliate links.
Pat O'Sheen is a religious, family man whose devotion to his wife and high-school sweetheart, Dale, and their three kids is top priority. He is an avid patriot with an adamant passion and unique covert talents to protect American soldiers.
U.S. Army Special Forces ranked Pat as one of the world's best marksmen. But when the American war hero is attacked by vengeful mercenaries in Paris, he shoots at two of the attackers from only ten feet away and misses multiple times. While fleeing, he felt sure that he shot at least three attackers. But when he wakes up in a Paris hospital, his longtime friend, Inspector Boudreaux, tells him there was only his blood at the scene.
Pat learns that a secret Hologram deflection ray technology, stolen from a CIA contractor, was used against him in Paris, and the retired covert operative is pulled into the center of a sophisticated, deadly, worldwide conspiracy. Pat's son is kidnapped, Pat's house is blown up, almost killing his wife, and he is framed for the murder of a CIA Hologram conspirator.
Can Pat escape from jail and use his multilingual skills, and his international contacts to expose the identity the high government officials behind the hologram conspiracy?
The Hologram Conspiracy is the first novel of the Hologram Trilogy with several sequels and prequels to follow.

Pat O'Sheen is in his fifties and an ex-CIA operative. Together with his son Jody, also ex-CIA, they have gone into business running a celebrity protection company. Their latest job is to protect up-and-coming singer Keisha Steele whilst she is in France on tour.
Pat gets awful stomach gripes which he believes is his guardian angel and means that danger is lurking. Whilst waiting at Charles de Gaulle airport in Paris he has one of these attacks but can't spot the danger. The gripping recede but once Keisha, her manager Johnny, his son Jody and former Army Special Forces, Brendan Clary arrives at the hotel the pains start again so Pat goes on a wander around the hotel to see what he can spot.
Not long after leaving the hotel he notices three Arab men, hired mercenaries, and quickly realises that the target isn't Keisha but himself. The men have also entered the hotel and have gone after Jody. The pair don't know who is after them nor who whom they can trust but they must work together if they have any chance of survival.
I enjoy the book, the plot moved fast and the action began right from the start. I particularly liked the family relationships within the story and the closeness of Pat and Jody and the love Pat has for his wife.
The book plays out like a full-on action movie, forever changing and dangers lurking all the time. The story is certainly memorable and engaging, plus it has you eagerly reading wanting to know what is going to happen next. The only thing that I struggled with was that it was all a little beyond my imagination and at times I had trouble keeping up with what was going on, but this is just me, if you love action, thriller books then you are going to love this one.
Book Reviewer – Marcia
---
Purchase online from:
---
About the Author

Ed has a background in technical research writing and have been published by the International Society of Explosives Engineers. The historical and technical aspects of my novels is thoroughly researched. Hologram Conspiracy is the first of a trilogy.
Hologram Deception and Hologram Destruction are in edit and cover design. He is married to his high school sweetheart, and they have three kids and three grand-kids. They now live in Alabama near their grand-kids.

---
What did you think of the book? Share your thoughts in the comment section below!
---
The above links are affiliate links. I receive a very small percentage from each item you purchase via these link, which is at no extra cost to you. If you are thinking about purchasing the book, please think about using one of the links. All money received goes back into the blog and helps to keep it running. Thank you.