Ollie's Garden by Riya Aarini – Book Review
Ollie's Garden by Riya Aarini – Book Review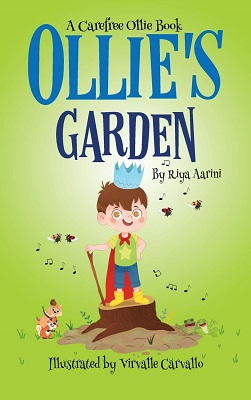 Ollie's Garden
Carefree Ollie Book Three
Author – Riya Aarini
Pages – 38
Released – 14th November 2020
ISBN-13 – 978-1735347325
Format – ebook, paperback, hardcover
Review by – Stacey
Rating – 5 Stars
I received a free copy of this book.
This post contains affiliate links.


Ollie is king of his garden. Animals and insects of all colors, shapes, and sizes live among its grasses, flowers, and trees. When the garden creatures fight, Ollie is left to sort out the mess and return peace to his garden kingdom.
Ollie's Garden explores themes of diversity. World peace is an outcome of acceptance, tolerance and friendship. If the various garden creatures can get along, children of all backgrounds might be inspired to do the same.

Little Ollie loved his garden so much that he decided he was the King of it and went outside wearing a crown and robe. He loved the colours and the scents and sights that surrounded him. He also loved all the animals and insects.
However, the animals and insects didn't quite love one another. The different coloured ladybugs were fighting, the frogs and toads were arguing and the squirrels and chipmunks were falling out. Ollie tries to tell them to behave themselves but they didn't listen. Then he realised a valuable lesson that he needed to share with the creatures to bring them together.
Ollie's Garden is the third book in the Carefree Ollie series by Riya Aarini, with 'Ollie's Backpack' and 'Ollie's Haffiness' being the previous two books released earlier this year.
When I first began the series I was a little unsure of the way the plot was written in book one as it seemed to divert from the main theme and it felt overly long. Book two stayed on track with the plot but I did have a small issue with it. However, this book is really beautiful and I can't find any faults.
The book is just the right length. It has superb full-page illustrations that show how colouful the garden and the animals are. Ollie has the right attitude towards the situations with creatures falling out and it was nice to see him come to realise that the world needs diversity and so do the animals.
This is a very sweet book and the best so far in the series. I now can't wait to see what author Riya Aarini has next for Ollie.
Book Reviewer – Stacey
---
Purchase online from:
---
About the Author

Riya Aarini will release her newest picture book Pickerton's Jiggle in February 2021. Ollie's Garden is the third book in her Carefree Ollie early reader series. Stay tuned for more upcoming children's books!



---
What did you think of Ollie's Garden? Share your thoughts in the comment section below!
---
The above links are affiliate links. I receive a very small percentage from each item you purchase via these link, which is at no extra cost to you. If you are thinking about purchasing the book, please think about using one of the links. All money received goes back into the blog and helps to keep it running. Thank you.
Like us on Facebook – Tweet us on Twitter – Pin us on Pinterest