Ronan's Dinosaur by Nadishka Aloysius – Book Review
Ronan's Dinosaur by Nadishka Aloysius – Book Review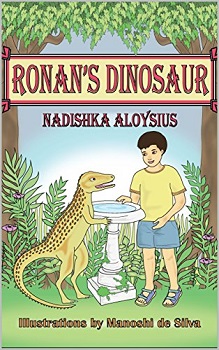 Ronan's Dinosaur
Author – Nadishka Aloysius
Pages – 105
Released – 2nd May 2018
ISBN-13 – 978-9555184755
Format – ebook, paperback
Reviewer – Stacey
Rating – 3.5 Stars
I received a free copy of this book.
This post contains affiliate links.
Do you wish you could actually meet a Dinosaur? Go on a journey of discovery to an exotic place and share the joys and fears of a young boy who was lucky enough to do just that…
Ronan is dealing with a crisis. He and his parents have just moved into an old mansion to look after his Grandmother who requires assistance. Ronan is very introverted and anxious and even refuses to venture out of the house.
Everything changes when he makes an unexpected friend – a dinosaur. Scoot introduces the young boy to new experiences, new adventures, and new friends (including an Archaeopteryx) and helps him gain some self confidence. However all good things must come to an end…and more change and upheaval are on the way…
Childhood anxiety is a lot more common that we realize. Dealing with it can be stressful to both children and the adults who care for them. This chapter book shows that help can come from the most surprising of places, and all you really need is FAMILY and FRIENDSHIP to overcome your problems.

Ronan and his family are staying at his grandmother's house for a little while in Sri Lanka as she is sick and needs caring for. Ronan doesn't like change and doesn't particularly like the big house and the overgrown garden. His mother tries to get him to go out and she even tries with stories of her childhood there and the fun she had, but he's not convinced.
One afternoon though Ronan hears something in the trees and soon a dinosaur appears – A talking dinosaur called Scoot. It doesn't take long for the two to become secret friends, well he doesn't want his mum knowing about Scoot. Soon they are having adventures and Ronan is being introduced to new things that he realises he actually quite enjoys.
I have very mixed feelings about this book. The plot was different and it was nice to see a young boy who was very shy and anxious come out of his shell and enjoy life. The Sri Lankan scenery was beautiful exotic. The characters were charming and enjoyable, even Scoot and his pre-historical friends.
The reason why I had mix feelings though as it took me a while to get through it as I just couldn't fully engage in the plot. I kept on putting it down and forcing myself to pick it up and read another few chapters before putting I'd put it down again. Perhaps because dinosaurs have never really interested me. I was never a child who played with toy dino's or learned every name.
If your children like dinosaurs or are even anxious kids and you want a lovely friendly story to read with them or for them to read themselves then Ronan's Dinosaur will hit the spot. Ronan's Dinosaur is filled with lovely artwork too which brings the story alive.
Reviewed by Stacey
---
Purchase Ronan's Dinosaur online from:
---
The above links are affiliate links. I receive a very small percentage from each item you purchase via these link, which is at no extra cost to you. If you are thinking about purchasing the book, please think about using one of the links. All money received goes back into the blog and helps to keep it running. Thank you.