The Naughtiest Unicorn at Christmas by Pip Bird – Book Review
The Naughtiest Unicorn at Christmas by Pip Bird – Book Review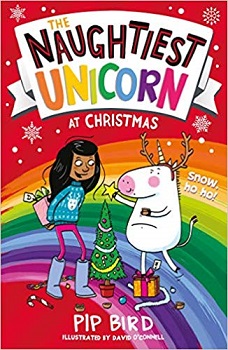 The Naughtiest Unicorn at Christmas
The Naughtiest Unicorn Book Five
Author – Pip Bird
Illustrator – David O'Connell
Publisher – Egmont
Pages – 160
Released – 31st October 2019
ISBN-13 – 978-1405295949
Format – ebook, paperback
Review by – Stacey
Rating – 4.5 Stars
I received a free copy of this book.
This post contains affiliate links.
Pull on your Christmas jumper and untangle the tinsel! It's the week before Christmas and Mira and her friends are getting ready to celebrate the holidays with their unicorn best friends forever (UBFF)!
Dave the naughtiest unicorn LOVES Christmas, mainly because there are so many delicious things to EAT. Plus there's a tree to decorate, a festive quest and a very special CHRISTMAS SHOW to rehearse.
Mira is desperate for her and Dave to play the lead roles of Snow Unicorn and Lost Child . . . will her wish come true? Or will Dave get distracted by all the mince pies? One thing is for sure . . . Christmas time at Unicorn School is sure to be festive fun for EVERYONE!

Back in May I reviewed the first book in The Naughtiest Unicorn series and loved it. If you are not familiar with the series it features a young girl called Mira who has just started at the Unicorn School. A school similar to a normal school, except every student, is paired up with a Unicorn and alongside normal lessons, they have Unicorn lessons too.
Mira was paired up with the laziest, naughtiest Unicorn in the school, Dave, who likes to eat people's work, sleep, and not do as he is told, but Mira loves him.
In this Christmas book the school is putting on a performance of 'The Legend of the Snow Unicorn' and Mira desperately wants her and Dave to have the lead parts. However, Dave is more interested in eating peoples scripts than wanting to perform so it's no surprise when Mira's dreams are shattered and they are cast as a pebble and a worm, but she is not going to be defeated, they are going to be the best pebble and worm the school has ever seen.
The Naughtiest Unicorn series is a wonderful, funny series featuring a diverse cast of characters and some amazing unicorns too. In this fifth book, The Naughtiest Unicorn at Christmas, the students are all like one big family. Christmas is fast approaching so their lessons now include a variety of festive activities, including ice skating for PE and Cookie making for Home Ed.
The books are a lot of fun and easy to read. They also include some fabulous and amusing illustrations throughout that will make you giggle. Just like the first book, there are touching moments of friendship and a few life lessons within the pages too.
This series would make a fabulous present for any unicorn loving child that can read unaided. Whilst each book can be read as a standalone, I believe it is best to at least read the first book as that explains the school, setting, the unicorns and how they are paired with their owners and of course an introduction to Mira and Dave.
Book Reviewer – Stacey
---
Purchase online from:
---
About the Author
Pip Bird is a children's author living in London. When she's not writing magical stories, she dreams of going to Unicorn School and having her own Unicorn Best Friend Forever.
---
What did you think of The Naughtiest Unicorn at Christmas? Share your thoughts in the comment section below!
---
The above links are affiliate links. I receive a very small percentage from each item you purchase via these link, which is at no extra cost to you. If you are thinking about purchasing the book, please think about using one of the links. All money received goes back into the blog and helps to keep it running. Thank you.