Norman Space Bat by Jake Evanoff – Book Review
Norman Space Bat by Jake Evanoff – Book Review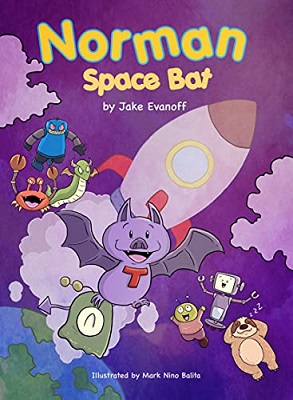 Norman Space Bat
Author – Jake Evanoff
Illustrator – Mark Nino Balita
Publisher – Star Ship Press
Pages – 56
Released – 1st May 2021
Format – ebook
Rating – 4 Stars
I received a free copy of this book.
This post contains affiliate links.


Synopsis
He's just a cute, timid little bat… but scoundrels ruin his day! Can he face his fears and flit his way to cosmic adventure?
Norman would never dream of seeking out danger. But during a fun-filled game of sonar-tag with his friends, he's captured and snatched away from the forest. And though he's scared, Norman cleverly helps everyone escape while he hides in an unmanned spaceship… only to zoom through a black hole to the future.
Discovering he's on a futuristic Earth wearing a strange device that gives him crazy powers, Norman learns he's supposed to fulfill an ancient prophecy. But with his captors' sinister
organization still hot on his wings and bent on wreaking havoc, he'll have to come up with a brilliant plan to save his newfound pals.
Can Norman blast the bad guys out of everyone's universe and find his way back home?
Norman was a pretty average bat and he was happy being average. That was until one day he was captured whilst playing sonar tag with his friend. He was taken to a secret lab where he met lots of other bats just like himself, all labelled with a large T on their stomachs.
Soon Norman's life is full of adventure as he is given a device that gives him superpowers. But there are bad people after him and the other bats too. Can Norman save himself and his new friends from their evil clutches?
Norman Space Bat is an entertaining and exciting children's book which I would say is for the younger end of middle-grade readers. Norman is a happy, content bat enjoying his life. He's never wanted any big adventures in his life. He soon learns to embrace his new life with some amazing superpowers through.
The illustrations throughout are inviting and emphasis the story perfectly. I love how thoughtful and caring Norman is, as well as how much he enjoys some of the exciting missions he is sent on.
Aside from being an adventure book, this is also a good versus evil book, with Norman and his new friends on one side and the mysterious organisation VIPD on the other.
The story is told in short chapters and just a few sentences per page making it fast-paced. At just 50 pages long children will get through it quickly. It is always fun to have animals in books and having a book about a bat is a fab idea. The plot will hopefully show children that it is good to be content with your life and also that just around the corner adventure may be waiting.
Purchase Online From:
---
What did you think of 'Norman Space Bat'? Share your thoughts in the comment section below!
---
The above links are affiliate links. I receive a very small percentage from each item you purchase via these link, which is at no extra cost to you. If you are thinking about purchasing the book, please think about using one of the links. All money received goes back into the blog and helps to keep it running. Thank you.
Like us on Facebook – Tweet us on Twitter – Pin us on Pinterest – Join us on Instagram