The Night I Met Father Christmas by Ben Miller – Book Review
The Night I Met Father Christmas by Ben Miller – Book Review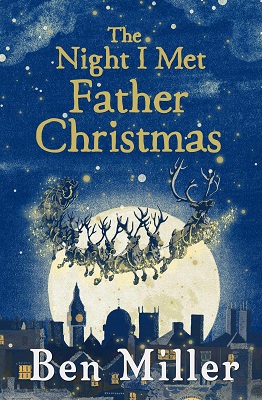 The Night I Met Father Christmas
Author – Ben Miller
Publisher – Simon & Schuster Children's UK
Pages – 304
Released – 31st October 2019
ISBN-13 – 978-1471171543
Format – ebook, paperback, hardcover, audio
Review by – Stacey
Rating – 4 Stars
This post contains affiliate links.


Jackson knows all about the flying reindeer, he knows about the elves and the secret North Pole workshop, he knows about the magic that allows Father Christmas to deliver presents around the world in just one night, but there's one thing he doesn't know … how did Father Christmas become Father Christmas?
That all changes when, one Christmas Eve, Jackson meets Father Christmas and hears his incredible story.
So begins an enchanting fairy-tale into a magical snowy landscape, where Torvil, a mean-spirited and miserly elf, is about to discover the true meaning of Christmas. This might not have been the story Jackson was expecting but, as Father Christmas tells him, no good story ever is…
Get ready for a Christmas classic in the making from actor and comedian Ben Miller with beautiful illustrations throughout from emerging talent Daniela Jaglenka Terrazzini, that will remind everyone of the true spirit of Christmas and prove once and for all that Father Christmas really does exist!

It is Christmas Eve young Jackson, who loves Christmas, has decided that he needs to ask Santa some questions, like who is he really and how did he become Father Christmas? He hatches a plan to pretend not to be bothered about Christmas and then once his parents and twin sisters are asleep he will sit and wait for Santa to appear.
After an initial shock at finding a child out of bed, Santa decides that he can answer Jackson's questions but warns him it might not be what he is expecting.
The Night I Met Father Christmas is a fun festive read for middle-graders that has taken Charles Dickens 'A Christmas Carol' and given it a child-friendly makeover. The story has been beautifully crafted, including some fabulous artwork throughout to enchant the reader and to embrace the story of Santa's origins.
Within this magical story, you will find snow, reindeer, presents, and of course elves, including one mean elf called Torvil who has to learn about the true meaning of Christmas.
The book was really beautiful. It teaches children about caring and being kind. It also shows them who Father Christmas is and what he stands for. I love a festive read and this one hit all the right spots to put me in the holiday spirit. I've never read Ben Miller's books before but he is certainly a gifted writer who can get into the mind of a child.
Book Reviewer – Stacey
---
Purchase online from:
---
About the Author

Ben Miller is an author, actor and director, best known for writing and starring in 'The Armstrong and Miller Show' and his role as Rowan Atkinson's sidekick, Bough, in the 'Johnny English' franchise. He has written several bestselling books for children, including 'The Night I Met Father Christmas' and 'The Boy Who Made the World Disappear'.
---
What did you think of The Night I Met Father Christmas? Share your thoughts in the comment section below!
---
The above links are affiliate links. I receive a very small percentage from each item you purchase via these link, which is at no extra cost to you. If you are thinking about purchasing the book, please think about using one of the links. All money received goes back into the blog and helps to keep it running. Thank you.
Like us on Facebook – Tweet us on Twitter – Pin us on Pinterest