Amber Waves of Grace by Jessica Berg – Book Review
Amber Waves of Grace by Jessica Berg – Book Review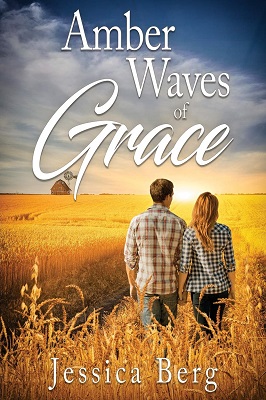 Amber Waves of Grace
Author – Jessica Berg
Publisher – Red Adept Publishing
Pages – 270
Released – 19th February 2020
ISBN-13 – 978-1948051439
Format – ebook, paperback
Review by – Linda
Rating – 5 Stars
I received a free copy of this book.
This post contains affiliate links.


After her father's accident, Corrie Lancaster, moves back to the family farm just in time to help with the harvest. With a bumper crop of wheat waiting, the farm's only hired hand quits, leaving Corrie with no choice but to accept the help of her old boyfriend's older brother, Aaron Tuttle. It seems like the perfect plan until Corrie realizes ex-flame Luke isn't over her. But even with Luke's apologies and attempts to rekindle their romance, Corrie can't forget his past betrayal.
Between harvesting, keeping tabs on her younger siblings, and watching her parents' marriage crumble, Corrie leans on Aaron for emotional support. Wading through jealousy was never on Corrie's to-do list, but as she navigates the choppy waters, she finds herself falling for Aaron's good looks and charming wit.
Just when Corrie thinks she has everything under control, a stranger seeking shelter comes to the farm, and an old nemesis returns for revenge. As destructive forces align against her, Corrie must decide which man's love will bring her back to life and restore her faith in herself, her family, and her purpose.

Farm life is hard, but for Corrie Lancaster it was even harder after her father had an accident and she had to come home to run the farm when it was at its busiest time of the year – harvest.
I just loved this heartwarming book of a family who's bond and faith were strong enough to endure whatever life had to throw at it, and they certainly had lots of ups and downs. It felt so relatable to real life.
I adored the characters, my favourites were Corrie with her unending resolve to keep going no-matter-what and Aaron who just comes across as such a dear man. They came across as so realistic that I felt I knew them.
The story took us through a lot of challenging times along with some lovely tender moments. My interest was kept all the way through and I loved the times when everything seemed at its worst as there was always a glimmer of light.
Amber Waves of Grace is a very emotional tale that had me in tears and in deep joy too. It was certainly a page-turner which meant I never wanted to put it down, it's always good to be left wanting more.
I love that the author Jessica Berg has taken everyday life and turned it into an epic beautiful story. Life is a roller coaster and this shows us just that. It's well written with very expressive language and I would highly recommend this romantic story to everyone.
Book Reviewer – Linda
---
Purchase online from:
---
About the Author

I was born and raised a small-town girl with a penchant for wild imaginings and a love for the prairie. My passions are my family, my husband, and my four children. I take the advice to write what you know to heart, so my writing centers around the strong bonds of family and the land upon which they live.





---
What did you think of Amber Waves of Grace? Share your thoughts in the comment section below!
---
The above links are affiliate links. I receive a very small percentage from each item you purchase via these link, which is at no extra cost to you. If you are thinking about purchasing the book, please think about using one of the links. All money received goes back into the blog and helps to keep it running. Thank you.
Like us on Facebook – Tweet us on Twitter – Pin us on Pinterest