Nobody But Us by Laure Van Rensburg – Book Review
Nobody But Us by Laure Van Rensburg – Book Review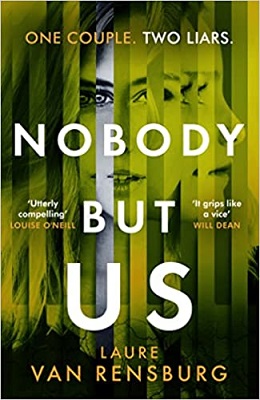 Nobody But Us
Author – Laure Van Rensburg
Publisher – Michael Joseph
Release Date – 14th April 2022
Pages – 400
ISBN 13 – 978-0241508190
Format – ebook, paperback, hardcover, audio
Star Rating – 5
I received a free copy of this book.
This post contains affiliate links.

Synopsis
MEET 2022'S MOST DANGEROUS COUPLE . . .
Steven Harding is a handsome, well-respected professor. Ellie Masterson is a wide-eyed young college student.
Together, they are driving south from New York, for their first holiday: three days in an isolated cabin, far from the city.
Ahead of them, the promise of long, dark nights – and the chance to explore one another's bodies, away from disapproving eyes.
It should be a perfect, romantic trip for two.
EXCEPT THAT HE'S NOT WHO HE SAYS HE IS.
BUT THEN AGAIN, NEITHER IS SHE . . .
'Nobody But Us' is billed as a dark thriller by British-based French-born author, Laure Van Rensburg. The prologue is shocking so anyone of a squeamish disposition has been warned.
Ellie is a twenty-three-year-old university student in a relationship with Steven, a university professor who is almost a generation older. She has planned a romantic weekend away in an isolated house in Chesapeake Bay. The property is imposing and nestling in a wooded area near the sea. Everything is covered in a deep carpet of snow and there is no landline or mobile phone signal. The scene is now set for the drama which unfolds over the next three days.
Each chapter is quite short and devoted to one of the two main protagonists, interspersed with diary entries from a third person. Ellie's sections are written in the first person with Steven's in the third. The book is divided into three parts, one for each day they remain at the house and starting with an appropriate epigraph.
Both characters are well-defined and multi-layered, as becomes apparent from their backstories which are drip-fed throughout the book. Ellie appears vulnerable and eager to please. Steven is manipulative and controlling; wracked with conflict, insecurity and jealous of his high-achieving father. Ellie peripherally acknowledges some of his foibles but sees him as protective and caring. She can't quite believe she has attracted such a sophisticated man.
The cover on my review copy is unusual with an additional half board, peeled back to reveal a second tag. This proves symbolic as nothing inside or out of the book, is quite as it appears from first glance.
It is an incredibly difficult task to hold an audience's attention when a full length story is pretty much a two-hander. I complement the author in her use of amplification, imagery, metaphors and similes to add colour and depth. Not once did I find my attention wavering.
This story tackles some sensitive themes head-on with the end result being a powerful tale of detachment and retribution. I found this book gripping and I hope the author found writing it a cathartic experience which might encourage others to also find their voice. I have no hesitation in awarding five stars.
---
Purchase Online:
Laure Van Rensburg
Laure Van Rensburg is a French writer living in the UK and an Ink Academy alumna. Her stories have appeared in online magazines and anthologies such as Litro Magazine, Storgy Magazine, The Real Jazz Baby (2020 Best Anthology, Saboteur Awards 2020), and FIVE:2:ONE. She has also placed in competitions including 2018 & 2019 Bath Short Story Award.
Author Links:
---
The above links are affiliate links. I receive a very small percentage from each item you purchase via these links, which is at no extra cost to you. If you are thinking about purchasing the book, please think about using one of the links. All money received goes back into the blog and helps to keep it running. Thank you.