Julian is a Mermaid by Jessica Love – Book Review
Julian is a Mermaid by Jessica Love – Book Review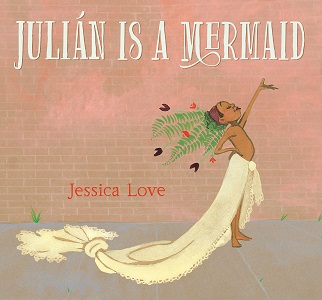 Julian is a Mermaid
Author – Jessica Love
Publisher – Walker Books
Pages – 40
Released – 7th June 2018
ISBN-13 – 978-1406380637
Format – hardcover
Reviewer – Stacey
Rating – 5 Stars
I received a free copy of this book
While riding the subway home with his Nana one day, Julian notices three women spectacularly dressed up. Their hair billows in brilliant hues, their dresses end in fishtails, and their joy fills the train carriage.
When Julian gets home, daydreaming of the magic he's seen, all he can think about is dressing up just like the ladies and making his own fabulous mermaid costume. But what will Nana think about the mess he makes – and even more importantly – what will she think about how Julian sees himself?
There's no getting away from the fact that Julian is a Mermaid is a gorgeous book filled to the brim with amazing watercolour style illustrations that capture what I believe is New York in perfect light.
The books, as you would imagine, is about a little boy called Julian. On his way home from swimming with his Nana they board a train. Onboard is three women dressed as Mermaids. Julian is mesmerised by them. They look so beautiful in their outfits that glisten and hair that swishes. He soon starts to daydream about being a mermaid and is sad when their stop arrives and he has to get off.
Once home with his Nana he decides he's going to be a mermaid too and uses items that he can find (including the curtains) to make his outfit. But what will his Nana think when she sees him?
Now, I've heard a lot of people talk about this being a great book for 'Pride Month' or for the LGBTQ community because Julian dresses up as a mermaid. Whilst I don't disagree with these views, I also feel that it shouldn't just be placed in this category.
Whether being the mother of three boys or being in the UK is the reason I feel differently I'm not sure. What I see is a little boy who just got dressed up like a mermaid. My lads when they were little dressed up as all kinds of people, creatures, characters. Both male, female and robotic.
I feel the book is more to do with the way his Nana reacts to seeing Julian dressed as a mermaid and what she then does about it. It is also about Julian being able to dress as he wishes without people thinking he's strange or telling him he can't be dressed like that because he's a boy. I also feel it is about family and the bond between a grandmother and her Grandson. Different generations.
It's about inclusion and acceptance and also about being yourself. As I have stated it is a wonderful book that I truly enjoyed. There aren't many words to the story, as the pictures tell the majority of it. It is a wonderful book that can be interpreted however you wish to interpret it – that's the beauty of picture books.
Reviewed by Stacey
---
Purchase online from:
---
Blog posts straight to email via Bloglovin – Like us on Facebook – Follow us on Twitter