Archenemy: A Mabel Chen Mystery by Brian Lee Bournival – Book Review
Archenemy: A Mabel Chen Mystery by Brian Lee Bournival – Book Review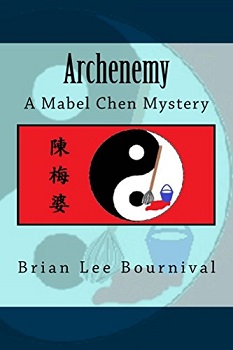 Archenemy
Mabel Chen Mystery Book Two
Author – Brian Lee Bournival
Publisher – Createspace
Pages – 290
Released – 12th April 2017
ISNB 13 – 978-1544755939
Format – ebook
Reviewer – Linda
Rating – 4.5 Stars
I received a free copy of this book
Post contains affiliate links.
The extraordinary/ordinary cleaning lady sleuth, Mabel Chen—a woman who is ignored by all but one cop at the police station she cleans—is back to solve more exciting mysteries in "Archenemy, A Mabel Chen Mystery," the second book in the innovative Mabel Chen Mystery Series—a series which presents a unique blend of action, science, and Sherlock-like deductions.
A witness and all forensic evidence point to a drug-addicted gang member as the shooter in a very high-profile triple homicide. He proclaims his innocence, but no one believes him except his mother and…the 8th Precinct's cleaning lady, Mabel Chen.
The Eel Ghost is a faceless international thief and terrorist who has consistently slipped through the hands of law enforcement. When several rare Chinese antiquities on loan from Taiwan are stolen from a Cleveland art museum, Mabel suspects the Eel Ghost—a man she has a history with—is behind the robbery.

Archenemy, A Mabel Chen Mystery by Brian Lee Bournival, is the second book with Mabel Chen as the main character. Unfortunately I didn't read the first novel so I was at a bit of a disadvantage when I began reading as I didn't know the main characters or their connections to one other. However, I very soon got in to the story, which is a very easy read and as the title suggest a good mystery, or should I say mysteries!
On occasions I did have to re-read parts as there was certainly a lot going on in the plot. The main characters were Mabel Chen, a cleaner at the local police station, whom had studied at a police academy in her native country years ago, a retired policeman called Dillon Shaw, and Mabel's friend and his grandson who was a detective known as "Fair". The base of the storyline is about a couple of crimes which Mabel and Dillon help to solve, for me it reads like a lovely modern day Agatha Christie's Miss Marple novel.
This is a good mystery read with lots going on, it does have a slightly complicated plot and with the various storylines to take on board it might have helped me if I had read the previous book. The ideas and concepts are well defined and the language clear and everyday. All the information was certainly plausible and I loved all the detail and descriptions of the Chinese Antiquities from the famous Taiwan National Palace Museum.
I thoroughly enjoyed this book, I had a job to put it down and will definitely love to read the next one in the series, of which we are given an insight to at the end of the book. Well done author Brian Lee Bournival brilliant book, I award 4 1/2 stars.
Reviewed by Linda
---
Purchase online from:
---
About the Author

In 1989 Dr. Brian Lee Bournival earned a PhD in plant genetics from the University of Florida. He spent the next five years working as a postdoctoral associate—a glorified intern—before he made the brilliant deduction that there weren't very many jobs in the plant sciences. He changed careers and earned his living as a statistical programmer. After weighing all the statistical probabilities, he now believes it's time for another career change to author. His many scientific and programming experiences enable him to write authentic and intriguing mysteries.
Brian was born and raised in Northeast Ohio and loves to incorporate his familiarity with the region into his characters' lives. He now lives with his wife and 16 cats—unfortunately, that number isn't a typo—in beautiful rural Tennessee.

---