A Line to Kill by Anthony Horowitz – Book Review
A Line to Kill by Anthony Horowitz – Book Review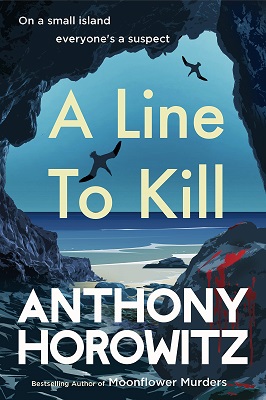 A Line to Kill
A Hawthorne and Horowitz Mystery Book Three
Author – Anthony Horowitz
Publisher – Century
Pages – 368
Released – 19th August 2021
ISBN-13 – 978-1529124309
Format – ebook, paperback, hardcover, audio
Rating – 5 Stars
I received a free copy of this book.
This post contains affiliate links.


Synopsis
'I couldn't see the sea from my bedroom but I could hear the waves breaking in the distance. They reminded me that I was on a tiny island. And I was trapped.'
There has never been a murder on Alderney.
It's a tiny island, just three miles long and a mile and a half wide. The perfect location for a brand-new literary festival. Private Investigator Daniel Hawthorne has been invited to talk about his new book. The writer, Anthony Horowitz, travels with him.
Very soon they discover that all is not as it should be. Alderney is in turmoil over a planned power line that will cut through it, desecrating a war cemetery and turning neighbour against neighbour.
The visiting authors – including a blind medium, a French performance poet and a celebrity chef – seem to be harbouring any number of unpleasant secrets.
When the festival's wealthy sponsor is found brutally killed, Alderney goes into lockdown and Hawthorne knows that he doesn't have to look too far for suspects.
There's no escape. The killer is still on the island. And there's about to be a second death…
I'll begin by saying I didn't do my research on this book before agreeing to review it. I didn't realise it was part of a series, however, it works as a standalone.
The story is unlike anything I have ever read before, given that the author has written himself as one of the characters. Anthony Horowitz has written a book featuring ex-detective Daniel Hawthorne. Hawthorne is quite a reserved character and the two seem to have a strained relationship. The publishers would like the pair to go to a literary festival on the island of Alderney and do a Q&A session.
Once there it isn't long before a murder occurs, the first one to ever take place on the island. With the two seasonal police officers no longer on the island and the local bobby at home with a bad back, Hawthorne is asked to take a look at the scene whilst they await help. When the detectives do arrive they have every faith in Hawthorne and allow him to run a parallel investigation to their own.
When I began the book I was a little unsure of the way it was written, it feels quite like a memoir in that everything is recalled and the author talks directly to you about what is happening. At first, I read two chapters and put it down but a week later I picked it up again and began reading and didn't stop for the next few hours.
It took a while to get to the first murder scene which would normally annoy me, but given I hadn't read the first two books it was nice to get to know the characters and immerse myself in the festival and the lives of the writers, staff, and visitors there.
The idea of setting the story on a tiny island is fantastic, as it heightened the tension knowing that the murderer couldn't get away and must be one of the people at the festival.
I loved the banter between the characters and the weird relationship between Horowitz and Hawthorne, it is like they disliked each other but knew they had to work together. I enjoyed the twists in the story of how some of the characters knew one another. Hawthorne reminded me of Sherlock Holmes the way he analyses a scene and likes to point out things others will have missed.
A Line to Kill is a gripping, entertaining, and ingenious novel. I now have some catching up to do with the previous books in the series. If you are a thriller/detective lover grab a copy of this book, it really is as intriguing and interesting as that cover looks.
Purchase Online From:
---
What did you think of 'A Line to Kill'? Share your thoughts in the comment section below!
---
The above links are affiliate links. I receive a very small percentage from each item you purchase via these links, which is at no extra cost to you. If you are thinking about purchasing the book, please think about using one of the links. All money received goes back into the blog and helps to keep it running. Thank you.
Like us on Facebook – Tweet us on Twitter – Pin us on Pinterest – Join us on Instagram