Murder in Little Shendon by A. H. Richardson – Book Review
Murder in Little Shendon by A. H. Richardson – Book Review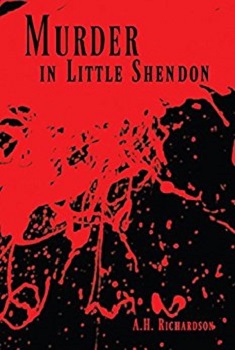 Murder in Little Shendon
Author – A. H. Richardson
Publisher – Createspace
Pages – 256
Released – 28th August 2018
ISBN-13 – 978-1515283973
Format – ebook, paperback
Reviewer – Clive
Rating – 4 Stars
I received a free copy of this book
Post contains affiliate links.
Picture, if you will, a picturesque village called Little Shendon, suddenly caught up in dealing with a murder of one of its citizens — not a particularly well-liked one at that. Which makes it all the more intriguing because the list of suspects becomes very long. This tantalizing tale unfolds with delightful twists and turns to find out whodunit to Mr. Bartholomew Fynche, the murdered shopkeeper. Fear grips the community as the investigation slowly progresses.
Everyone is interviewed; everyone is suspect! From the murdered man's housekeeper to Lady Armstrong, her staff and her nephew. Or could it be the shy librarian new in town? Or the defiant retired army major and his ladyfriend, the post mistress? Or perhaps the weird sisters who live on the edge of town? Then there is the couple who own the local inn and pub, along with the two Americans who are staying there? Even the vicar and his wife fall under the gloom of suspicion.
Uncertainty, wariness, and terror reign as neighbors watch neighbors to discover the evil that permeates their upturned lives. No one feels safe in this charming little village.
A.H. Richardson, noted author, places in your trembling hands a mystery murder that will keep you reading until you learn the details, uncovered by Police Inspector Stanley Burgess and his two amateur detectives, his friend Sir Victor Hazlitt and the famed Shakespearean actor Beresford Brandon. Scratch your head with them over the strange clues that turn up. Follow them as they tread carefully among the landmines that appear innocent as they lie hidden beneath the surface of mystery. Something evil skulks in this tiny country village.
Who is the murderer? And why was this strange uncivil man dispatched in such a seemingly civil community? You are challenged to discover the culprit before the last few pages. And no fair looking ahead — it's the journey that proves the most enticing.

Murder in Little Shendon is a classic British murder mystery, set in an idealised English village of the 1950's full of interesting and often mysterious characters. If you are an Agatha Christie fan you will love this.  Indeed, you may even find one or two events very familiar.
A.H. Richardson has created some wonderful characters, all somewhat stereotypical of the genre but well described and believable. I really enjoyed the pairing of Sir Victor and Berry so I was pleased to learn that she has subsequently given them other stories. There were also some lovely touches from side characters.
I note that the author is UK born but has lived in the USA for many years. She has remembered her roots well and the text is convincing with just the occasional "Americanism" slipping in; co-worker for colleague, entryway for porch and a doctor estimating the weight of the body in pounds instead of stones. Also, when I was young all the village stores were known either simply by the proprietor's name or the village name. We had Miss Smith's Haberdashery, we did not have a Woolly World.
As expected in a typical whodunit everyone is a suspect, everyone has a secret and everyone has a motive. The amateur sleuths work their way through the list, uncovering clues one by one. They keep their interviews gentle and I found myself wanting to ask more. Richardson teases the reader with unasked questions and the sleuths' inability to delve deeper.
The Table of Contents tells us that the final chapter has the unoriginal title of And the Murderer Is… which we reach with lots of motives and clues but, unless you are sharper than me, no certainty of who the perpetrator is. Of course there is only one way to resolve such a mystery so using subterfuge the police inspector calls everyone together to reveal all in dramatic style. I expected nothing different.
One could describe Murder in Little Shendon as formulaic, idealistic and unoriginal. It is, but it is also familiar, teasing and entertaining.  Definitely worth four stars.
Reviewed by Clive
---
Purchase online from:
---
About the Author

A. H. Richardson was born in London England and is the daughter of famous pianist and composer Clive Richardson. She studied drama and acting at the London Academy of Music and Dramatic Art. She was an actress, a musician, a painter and sculptor, and now an Author.
She published her debut novel Jorie and the Magic Stones in December 2014. At the request of those who loved the first 'Jorie' story, Richardson has written a sequel titled Jorie and the Gold Key, and she is currently working on the third book in the series.
In addition to children's books, she also enjoys writing murder mysteries. She is the author of Murder in Little Shendon, a thriller murder mystery which takes place in a quaint little village in England after World War Two, and introduces two sleuths, Sir Victor Hazlitt and his sidekick, Beresford Brandon, a noted Shakespearian actor. And she has more 'who-dun-its' with this clever and interesting duo… Act One, Scene One – Murder and Murder at Serenity Farm.
A. H. Richardson lives happily in East Tennessee, her adopted state, and has three sons, three grandchildren, and two pugs. She speaks four languages and loves to do voiceovers. She plans on writing many more books and hopes to delight her readers further with her British twist, which all her books have.



---