The Release by Alistair Moore – Book Review
The Release by Alistair Moore – Book Review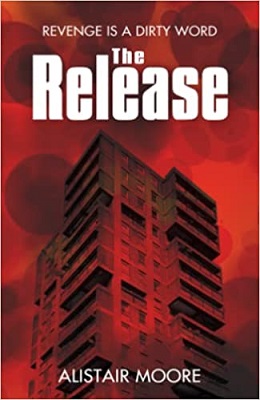 The Release
Author – Alistair Moore
Publisher – Candy Jar Books
Release Date – 12th April 2022
Pages – 240
ISBN 13 – 978-1912535033
Format – ebook, paperback
Star Rating – 4
I received a free copy of this book.
This post contains affiliate links.

Synopsis
Revenge is a dirty word, but what would you do if you met your child's killer?
Bennie lives a low-key existence and goes largely unnoticed by those around him, something he has turned into a vocation. His world is upended when a violently bereaved father offers him a life-changing amount of cash for information about his son's murderer, soon to be released from prison.
Against a background of colourful characters, social division and brutalist inner-city architecture, Bennie finds himself caught up in another man's quest for vengeance. Navigating danger, suspicion and the ever-present threat of violence, Bennie is tested to the limit as he digs into the past of a boy who became a killer.
A chance encounter brings romantic entanglement while helping Bennie towards his goals. Ultimately he is forced to confront questions of crime and punishment, morality and justice, redemption and the true meaning of freedom.
Some people are strong on figures, others are better at writing but Alistair Moore is making a good attempt to excel at both. A data analyst by profession he has managed in his spare time to write a number of short stories and an award-winning short film script. The Release is, I believe, his first published novel.
The author information at the back of the book says that it was first written as long ago as 2008 although I suspect that it has been at least reviewed if not rewritten since then. Regardless, it is a work for which he can be proud.
Alistair Moore has drawn on his knowledge of London to produce a gritty tale of poverty in the city and in some of the 1960's high rise housing developments. They seemed wonderful when they were built but in so many cases they have not produced the intended communities, just hubs for crime and violence.
The plot and most of the characters bring little cheer. They are almost all troubled and just about existing in their own way. Our hero, Bennie, is himself struggling to find peace within his own world and in his endeavours to learn more about the killer, he finds that there are no winners, especially in the killer's family.
The one chink of light in the whole book is Toni who is not perfect but she is able to work the systems better than most, offering a brighter future.
As his investigation progresses the pressure on Bennie to perform gets almost unbearable but he has a plan which comes good by the end. Does he then ride off into the sunset with Toni? You will have to see but if the author wants to look at a sequel he would be wise to include her.
Alistair Moore is to be commended for tackling some difficult facts of life in The Release and I have rated it as four stars.
---
Purchase Online:
Alistair Moore

Alistair Moore is an award-winning screenwriter and author of The Release (Candy Jar Books 2018) and Flap Trap & Other Stories (2022). His short film Kickoff, starring Steven Waddington (Sleepy Hollow, Last of the Mohicans) won Best British Short in the 2013 UK Film Festival and placed top 5 in the 2013 London Sundance short film competition.
Author Links:
---
The above links are affiliate links. I receive a very small percentage from each item you purchase via these links, which is at no extra cost to you. If you are thinking about purchasing the book, please think about using one of the links. All money received goes back into the blog and helps to keep it running. Thank you.