River Rising by John A. Heldt – Book Review
River Rising by John A. Heldt – Book Review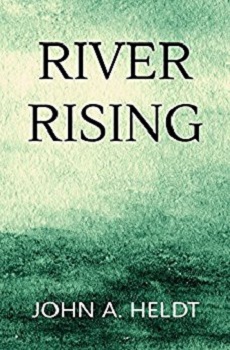 River Rising
Carson Chronicles Book One
Author – John A. Heldt
Pages – 661
Released – 18th September 2017
Format – ebook, audio
Reviewer – Julie
Rating – 3.5 Stars
I received a free copy of this book
Post contains affiliate links.
Weeks after his parents disappear on a hike, engineer Adam Carson, 27, searches for answers. Then he discovers a secret web site and learns his mom and dad are time travelers stuck in the past. Armed with the information he needs to find them, Adam convinces his younger siblings to join him on a rescue mission to the 1880s.
While Greg, the adventurous middle brother, follows leads in the Wild West, Adam, journalist Natalie, and high school seniors Cody and Caitlin do the same in Johnstown, Pennsylvania. Like the residents of the bustling steel community, all are unaware of a flood that will destroy the city on May 31, 1889.
In RIVER RISING, the first novel in the five-book Carson Chronicles series, five young adults find love, danger, and adventure as they experience America in the age of bustle dresses, gunslingers, and robber barons.

'River Rising' is the first book in the Carson Chronicles series by American author, John A Heldt. I have read a couple of his 'American Journey' series and the new collection is staying faithful to his time-travelling formula.
We meet the five Carson siblings who decide to travel back in time to find their adventurous parents, Tim and Caroline. The couple had slipped through a translucent membrane a few months earlier from contemporary Arizona to Pennsylvania in the 1880s.
Heldt has blended fact and fiction to good effect and has clearly researched the events of the time thoroughly.  However, I confess to a few déjà vu moments as our main protagonists plan their journey.
Once in the 1880s, the quintet needed to interact with people in an attempt to track their parents' movements and perhaps this is why they were keen to socialise so freely. I enjoyed the siblings' occasional faux pas and their nifty sidestepping to avoid suspicion.
They appear to have few moral or ethical qualms when falling in love with people who were dead long before they were born and the impact on history such relationships might have.  Indeed, those they take into their confidence seem content to accept the time-travellers at face value.
The plot sags in places in the first half of the book and in particular, I think a lot of dialogue could have been condensed.  However, Heldt gives us just enough to keep our interest with bits of information which suggest the five might achieve their goal. I particularly enjoyed following Greg as he travels through the 'wild west' on the trail of Tim and Caroline but I found some of the other threads rather tedious.
Just before half way, we see the story from a different angle and I confess this was a welcome addition to inject a bit of life into what seemed to be a series of love stories.  The momentum definitely picked up towards the end of the book.
I tried not to overthink the obvious practical obstacles time-travellers would face when living in another age but one issue bothered me; namely the Johnstown flood of 1889. If one of the siblings could remember from history that London Bridge had been moved from the River Thames in London to Lake Havasu City in Arizona, I would have thought between them, they would have known about a catastrophic national event which claimed over 2,000 lives?
This novel runs to 661 pages and I think the story might have packed more of a punch if a couple of threads had hit the cutting room floor – maybe the twins could have been left at home? The writing style was consistent with the author's previous work but the plot didn't grip me in quite the same way.
Nevertheless, I have no doubt Heldt fans will be delighted with this latest dip into the past.  It is a wholesome read with nothing to offend; no gratuitous violence or explicit adult content.  I definitely enjoyed parts of River Rising and for the time, effort and research that went into producing it, I award John A Heldt three-and-a-half stars.
Reviewed by Julie
---
Purchase online from:
---
About the Author

John A. Heldt is the author of the critically acclaimed Northwest Passage and American Journey series.
The former reference librarian and award-winning sportswriter has loved getting subjects and verbs to agree since writing book reports on baseball heroes in grade school. A graduate of the University of Oregon and the University of Iowa, Heldt is an avid fisherman, sports fan, home brewer, and reader of thrillers and historical fiction.
When not sending contemporary characters to the not-so-distant past, he weighs in on literature and life on his blog.




---