Tiny Reindeer by Chris Naylor-Ballesteros – Book Review
Tiny Reindeer by Chris Naylor-Ballesteros – Book Review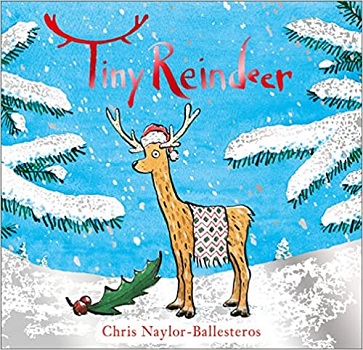 Tiny Reindeer
Author – Chris Naylor-Ballesteros
Publisher – Andersen Press
Pages – 32
Released – 7th October 2021
ISBN-13 – 978-1839130328
Format – hardcover
Rating – 4 Stars
I received a free copy of this book.
This post contains affiliate links.


Synopsis
Meet Santa's smallest helper: Tiny Reindeer! He doesn't quite fit in, but when a very special letter arrives before Christmas Eve, he embarks on a mission to find his place in the world.
Tiny Reindeer just can't find his place in the busy North Pole. Being much smaller than the other reindeer, he's not very good at any of the jobs Santa gives him. But when a letter comes from a little girl with a Christmas wish to help keep the memory of her grandfather alive, Tiny knows exactly what he needs to do.
Tiny Reindeer is a book about, you might have guessed it, a Tiny Reindeer. The deer is one of Santa's but he struggles to help with the normal chores before Christmas Eve as he is so small. Santa seeing the reindeer looking upset tells him to check the letters from the children as a new pile has just arrived.
As he is doing so he sees an envelope with a reindeer stamped on it. Feeling that that is the letter for him, he opens it and realises that he can help the little girl who wrote it.
Go on an adventure with Tiny Reindeer as he comes up with a plan to help the little girl and one that will hopefully make him feel happier too.
This is a sweet, festive book that I am sure children will adore. The reindeer has a big heart for being so small. When he reads the little girl's letter he realises only he can help her. Make sure as you read the book you read the letter in the illustrations otherwise the book might not make much sense.
Talking of illustrations, these are full-page, quite quirky, and bring the story to life. They are wonderfully Christmassy and so adorable to look at.
This is a beautiful, heart-warming story of how a Tiny Reindeer made a little girl very happy.
Purchase Online From:
---
What did you think of 'Tiny Reindeer'? Share your thoughts in the comment section below!
---
The above links are affiliate links. I receive a very small percentage from each item you purchase via these links, which is at no extra cost to you. If you are thinking about purchasing the book, please think about using one of the links. All money received goes back into the blog and helps to keep it running. Thank you.
Like us on Facebook – Tweet us on Twitter – Pin us on Pinterest – Join us on Instagram