Mitzi: Tale of a Dog by Dennis West – Book Review
Mitzi: Tale of a Dog by Dennis West – Book Review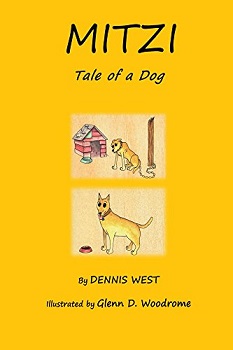 Mitzi: Tale of a Dog
Author – Dennis West
Illustrator – Glenn D. Woodrome
Pages – 32
Release Date – 20th October 2016
ISBN-13 – 978-0997877403
Format – ebook, paperback
Reviewer – Stacey
I received a free copy of this book
Post Contains Affiliate Links

Mitzi is an 18-year-old dog. She tells the story of her adventurous life in this heartwarming tale. She is a star on the stage, and protects her home when a burglar tries to break in.
Her Dad, a K-9 handler in the US Air Force, tells how she was trained and how important it is to eat the best quality dog food, which has kept her healthy all these years. When Mom enters her life, she now has two people to love.

Mitzi: Tale of a Dog, is a children's story told from the point of view of Mitzi, who is an 18 year old, German shepherd and boxer cross.
Mitzi lives with her mum and dad, Dennis and Carolyn. That hasn't always been the case though, as Dennis bought Mitzi when she was 5 years old. She weighed just 35 pounds, and had been mistreated for a long time.
Dennis is an ex serviceman with the K9 department, so he knew how to train dogs efficiently, with love and hugs and not treats. Mitzi was a model pupil, and learned quickly how to sit, lie down etc.
Mitzi loves her life, even though she is getting old now and has arthritis and is deaf. She gets lots of love and attention from her favourite people in the world, her mum and dad.
The tale is a wonderful story of how one dog went from being sad, lonely and hurt, to being the happiest dog in the world. I love that the book is told from Mitzi's point of view, so you get to hear just how Mitzi feels.
The book will teach children that with a lot of love, time, and friendliness, that they could make someone very happy, whether that be a dog or a human.
Book Reviewed by Stacey
Purchase Links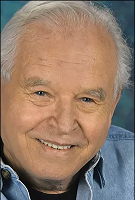 Dennis recently moved to New Mexico and is actively pursuing a career as a writer. He has written 2 plays, including a one-man play about the iconic baseball player, Babe Ruth. He is now working on a second children's book, 'Grandpa Can't Hear.'
In 2003, Dennis rescued Mitzi, who had spent the first 5 years of her life chained in her backyard. They have been a team ever since.
In the US Air Force, Dennis was trained as a K-9 handler by the Royal Air Force while stationed in England. On his retirement from the Air Force, he worked in a non-profit organization helping facilitate access to the benefits provided by the Americans with Disabilities Act. He has also been an actor on stage and screen.
​
Author Links