The Visitor by Terry Tyler – Book Review
The Visitor by Terry Tyler – Book Review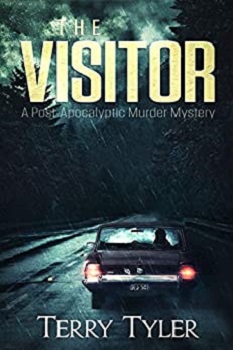 The Visitor
Author – Terry Tyler
Pages – 475
Released – 2nd November 2020
Format – ebook
Rating – 5 Stars
I received a free copy of this book.
This post contains affiliate links.


Synopsis
In 2024, a mystery virus ravages the entire world. 'Bat Fever' is highly contagious and one hundred per cent lethal.
A cottage tucked away in an isolated Norfolk village seems like the ideal place to sit out a catastrophic pandemic, but some residents of Hincham resent the arrival of Jack, Sarah and their friends, while others want to know too much about them.
What the villagers don't know is that beneath Sarah's cottage is a fully-stocked, luxury survival bunker. A post-apocalyptic 'des res'.
Hincham isolates itself from the rest of the country, but the deaths continue―and not from the virus. There's a killer on the loose, but is it a member of the much-depleted community, or somebody from outside? Paranoia is rife, as friend suspects friend, and everybody suspects the newcomers.
Most terrifying of all is that nobody knows who's next on the list…
The Visitor is Terry Tyler's twenty-second Amazon publication, and is set in the same world as her Project Renova series, while being a completely separate, stand-alone novel.
A Pandemic! What could be more topical?
The Visitor is a stark reminder of how things could spiral out of control. The opening chapters take us through the lives of four friends Jack, Sarah, Daisy, and Rexy who have been friends since their university days. A Bat Virus pandemic hits the world and some of them end up in a cottage in a Norfolk village, which had a fully stocked luxury bunker. The residents of the village are not all pleased to have Sarah and friends staying there, which causes divisions.
Jack is my favourite character, he is genuinely good guy, but my heart went to Finn. All the characters were well described and I could perfectly imagine them all, from busybody Peggy, to down to earth Garvey.
The plot reeled me in and kept me interested all the way through, plus, the ending makes me want to read more.
I went through most of my emotions whilst reading and was truly sad to hear about Finn. The suspense in this book is superb and I couldn't have guessed the outcome. The ending was a cliffhanger which, to me, makes a good book.
This is one brilliant story and I would love to read more from author Terry Tyler, well done on writing a totally captivating book. I highly recommend The Visitor.
---
What did you think of 'The Visitor'? Share your thoughts in the comment section below!
---
The above links are affiliate links. I receive a very small percentage from each item you purchase via these link, which is at no extra cost to you. If you are thinking about purchasing the book, please think about using one of the links. All money received goes back into the blog and helps to keep it running. Thank you.
Like us on Facebook – Tweet us on Twitter – Pin us on Pinterest