Judy Moody and the Right Royal Tea Party by Megan McDonald – Book Review
Judy Moody and the Right Royal Tea Party by Megan McDonald – Book Review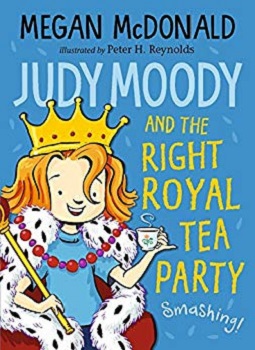 Judy Moody and the Right Royal Tea Party
Author – Megan McDonald
Illustrator – Peter H. Reynolds
Publisher – Walker Books
Pages – 160
Released – 6th September 2018
ISBN-13 – 978-1406382679
Format – ebook, paperback, hardcover, audio
Reviewer – Stacey
Rating – 5 Stars
I received a free copy of this book
Another day. Another mood. Meet Judy Moody at her moodiest-best, in this laugh-a-minute fourteenth adventure in the international bestselling series.
Bad moods, good moods, even right-royal-tea moods – Judy has them all in this brand new adventure, perfect for fans of Jacqueline Wilson and Lauren Child. With Grandma Lou's help, Judy has dug up proof that some old-timey Moodys lived in merry olde England. In fact, if her grandpa's notes are right, Judy might even be related to — royal fanfare, please – the Queen herself!
But then Judy's family tree gets a few more shakes and some more surprises come tumbling out. Now Judy has some right royal family secrets she'd like to keep hidden away, especially from Jessica, the princess in pink!
Judy Moody is back. In this hilarious story, Judy is learning all about her family tree when her Grandmother mentions to her that the name has changed over the years from Mudeye to Moody and that they came from England. There was even a relative who saved a princess from the Tower of London.
Judy being her usual self, takes this to mean that her distant relative must have been a prince and that must make her royalty – All hail Queen Judy!
Have fun with Judy and her friends as she gets used to being a Queen.
This is the third book in the Judy Moody series that I have reviewed and they have all been excellent reads and great fun. With currently thirteen books in the series, plus a spin-off called Stink (Judy's little brother) and a movie too, readers will have a lot to get through and keep them interested.
As per usual with these books amongst the story there are snippets of factual information. These books are for the more confident reader. The font is larger than what you find in books for adults and there are also black and white illustrations throughout which have been exquisitely drawn.
For children looking for something fun and interesting to read this series is just perfect. Judy gets up to something completely different in each book and she is a wonderful, enjoyable character to spend your time with.
Reviewed by Stacey
---
Purchase online from:
---
About the Author

"Sometimes I think I am Judy Moody," says Megan McDonald, author of the Judy Moody series, the Stink series, and THE SISTERS CLUB. "I'm certainly moody, like she is. Judy has a strong voice and always speaks up for herself. I like that."
For Megan McDonald, being able to speak up for herself wasn't always easy. She grew up as the youngest of five sisters in Pittsburgh, Pennsylvania. Her father, an ironworker, was known to his coworkers as "Little Johnny the Storyteller." Every evening at dinner the McDonalds would gather to talk and tell stories, but Megan McDonald was barely able to get a word in edgewise. "I'm told I began to stutter," she says, leading her mother to give her a notebook so she could start "writing things down."



---
Blog posts straight to email via Bloglovin – Like us on Facebook – Follow us on Twitter