Pick a Perfect Egg by Patricia Toht – Book Review
Pick a Perfect Egg by Patricia Toht – Book Review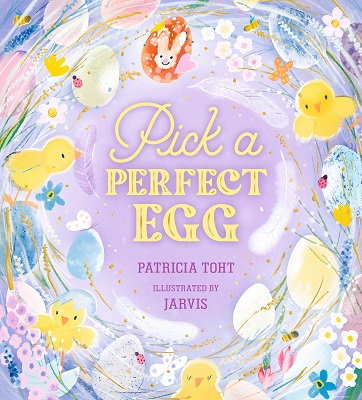 Pick a Perfect Egg
Author – Patricia Toht
Illustrator – Jarvis
Publisher – Walker Books
Release Date – 2nd March 2023
Pages – 40
ISBN 13 – 978-1529502237
Format – Hardcover
Star Rating – 4
I received a free copy of this book.
This post contains affiliate links.

Synopsis
Pick a perfect egg with care – choose a white one nestled there. Lay in cartons, row by row. Pay the farmer. Off you go!
There's excitement in the air as a little girl and her mother carefully collect speckled eggs at the farm. These are no ordinary eggs – they will be dyed, decorated, bejeweled and nestled in a basket. And then, when Sunday morning arrives, the little girl will wear her best bunny ears and head out to meet friends and neighbours. It's time to search for eggs of a different kind, filled with chocolate, toys and sweeties… It's time for a spectacular, springtime egg hunt!
This happy and gloriously illustrated Easter read-aloud captures all the excitement of the season, and is from the creators of the perennially popular Pick a Pine Tree and Pick a Pumpkin.
Pick a Perfect Egg is part of a collection of stories including Pick a Perfect Pine Tree and Pick a Perfect Pumpkin. This time the book is set at Easter.
We meet a little girl who is picking eggs at the farm with her mother to decorate for Easter. With their colourful designs and glitter-filled shells, the eggs are ready for the Easter Egg Hunt where lots of children come together to search for eggs. Including those filled with toys and chocolate ones too.
The book is written in a rhyming style that works most of the time. I wasn't very keen on a few of the pages where the black text was written on top of a dark blue section as this made it hard to see, but other pages were fine to read.
I loved that the author detailed how to decorate the eggs and especially how they could use plants to give the egg shells colour too.
The illustrations are beautiful and fill the pages. They capture the words perfectly and showcase the children enjoying themselves whether decorating or searching for eggs.
Overall, this is a lovely, sweet, children's picture book that would be the perfect read for Easter.
---
Purchase Online:
Patricia Toht

Patricia Toht once owned a children's bookshop called Never Never Land, before turning a love of books into a love of writing. She is the author of Pick a Pine Tree, Pick a Pumpkin and Together With You, all illustrated by Jarvis, All Aboard the London Bus, illustrated by Sam Usher, and Taxi, Go!, illustrated by Maria Karipidou. She lives in California, USA.
Author Links:
---
The above links are affiliate links. I receive a very small percentage from each item you purchase via these links, which is at no extra cost to you. If you are thinking about purchasing the book, please think about using one of the links. All money received goes back into the blog and helps to keep it running. Thank you.